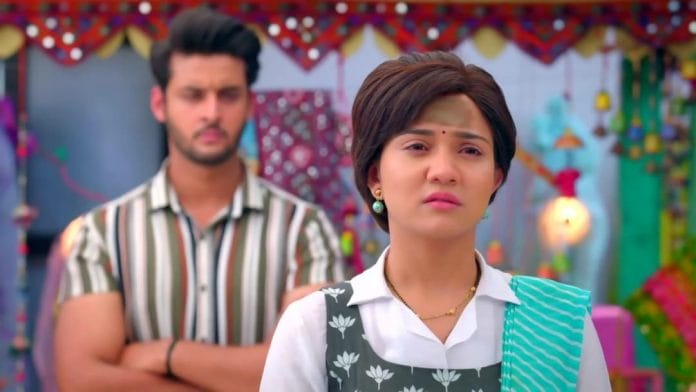 Meet 15th July 2022 Written Update On TellyExpress.com
The episode starts with Manjiri telling Meet Ahlawat that he must be happy as he held her hand but she allowed him just for Raj's sake. Meet says he is not interested to hold her hand either but he did it for Raj. Manjiri taunts him and cleans her hand. Meet also applies sanitizer on his hands. Meet says she should not provoke him but he doesn't even want to look at her face. They avoid each other and next day Meet Ahlawat wakes up hearing Manjiri's Bhajan and it reminds him of Meet's voice. He observes Manjiri that she is taking care of Raj exactly like Meet used to do. He says what he should do to expose Meet. He calls Hosiyar and tells him to hire some fake goons.
Masoom overhears that and informs Manushi about that. Ram and Ragini make the list of the guests for Isha's wedding. He says they will have to arrange snacks for them too. Barfi calls Ragini and says they will not give limited presents to her relatives but they have to give more than that. She demands ten thousand rupees each, for twenty of her relatives. Ragini gets shocked hearing that and she tells this to Ram. She says they should not accept these huge demands of Barfi. They should tell about that to Raj and others in the family. Ram says they can't do that as Raj is against dowry custom and he will cancel the wedding immediately. Ram says previously Isha got separated from Deep but he won't repeat the same mistake now as Isha can only be happy with Deep so he will fulfil Barfi's demands for his daughter's happiness.
Popatrani sends Manjiri outside to bring some stuffs from the market. Manjiri encounters some goons on her way and they start misbehaving with her. Meet Ahlawat notices all of that thinking those goons are sent by Hosiyar. He sends a text to Hosiyar saying the goons have arrived. Hosiyar calls him to inform that his fake goons didn't go there yet but they are different goons. Manushi tells Kunal that she sent real goons behind Manjiri to check if she is really Meet Hooda. She has the same purpose like Meet Ahlawat that is to expose Meet Hooda. Kunal asks but if she is not Meet then what? Manushi says then goons can do anything to Manjiri and she is not at all bothered by that. Meet Ahlawat wonders why Manjiri is not attacking the goons. Manjiri has been taken to a godown by the real goons. Meet Ahlawat learns from Hosiyar that they are not fake goons.
Barfi comes to meet Isha and says Isha has to finish all the laddoos she brought for her. Isha says she avoids sweets but Barfi forces her saying she wants her daughter in law to gain weight else her relatives will criticise. She feeds a big laddoo to Isha and the latter struggles to chew it. Barfi also tells Ragini to feed two laddoos to Isha daily. She talks about dowry saying it has to be something special which will come along with Isha and she won't get accepted without dowry. Ragini gets worried hearing all of that.
Meet Ahlawat rushes to save Manjiri and there one of the goons tries to touch her and Meet Ahlawat arrives. He beats all the goons and gets hurt as well. He unties Manjiri and Hosiyar comes there. Hosiyar blurts out the truth that his fake goons didn't come yet, he is sorry for that. Manjiri gets shocked and she lashes out at Meet Ahlawat for again doubting her intentions. He still feels she is his cheater wife.
She says she shouldn't have agreed to help him showing kindness. He doesn't deserve her empathy. How can he trouble her by sending goons? He misbehaves with his mother and hates all women. She just hates him for his attitude and she doesn't want to see his face again in future. His wife also left him because no women can stay with such a heartless man. Manjiri leaves in anger and Meet Ahlawat shouts that he is exactly the same how Manjiri described him. People should ask him why he became like that.
Episode ends
Also See: