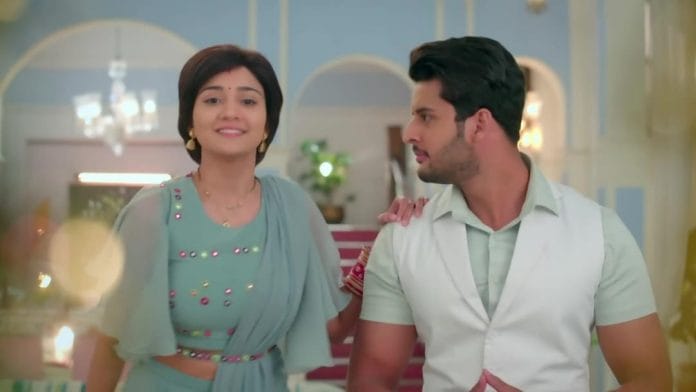 Meet 15th November 2022 Written Update On TellyExpress.com
The episode starts with Meet thinking she has to find out where Neelam is hospitalised. Meet calls all the hospitals asking if a patient named Neelam is admitted in their hospital.
Ragini and Sunaina talk about Meet Ahlawat and his memories of what he used to do on Diwali. Ragini prays to Goddess to return Meet Ahlawat to them. Sunaina assures Ragini that Meet Ahlawat will return soon. Sunaina asks Ragini if she thinks Meet is the one who did this? Ragini says she trusts Meet. Sunaina says Neelam also couldn't do that as they know how is Neelam. Meet requests Sunaina and Ragini's help and asks them where is Neelam hospitalised. Sunaina apologises to Meet and says she can't tell her where Neelam is hospitalised. Ishani comes and says to Meet there is no need to expect help from Ragini. Ishani says to Meet that she trusts her and she will stand by her side.
Meet comes and talks to Raj and asks Raj for her blessings and says whatever she told is the truth. Raj says he thinks of her as his son and says he completely trusts her. Laila brings Meet Ahlawat to the hospital. The Goon gives the money to the compounder. The Goon leaves from there.
Meet says to Raj her father taught her how to fight and says she will not back away from this fight. Meet says she will find where Neelam hid Meet Ahlawat and bring him back. Laila thinks no matter what Meet does she will never be able to find Meet Ahlawat. Laila completely bandages Meet Ahlawat's face. Babita thinks if Meet didn't bring back Meet Ahlawat then she has to face her anger.
Raj says to Meet that no matter what happens he is on her side and asks Meet if she is sure Neelam did all this. Babita says she is sure Meet will find out where is Neelam and says she decided to stay with Neelam until these 24 hrs. Barfi asks Babita to stay here and says she will stay with Neelam. Babita agrees.
Meet requests Raj for help. Raj agrees and asks Meet what should he do? Raj comes to Masum and acts like he is enlightened with this incident and says he will completely trust her from now on. Raj asks Masum not to tell Meet in which hospital is Neelam at. Masum says she will not tell Meet that Neelam is in the Charitable hospital. Meet eavesdrops and hears the name of the hospital
Raj asks Masum what is room no and Masum says Neelam is in room no-15. Raj praises Masum and hugs her.
Laila comes and says to Meet Ahlawat who is unconscious that with in a few hours they will leave to a place far away from his family and far from Meet and says no one will disturb them.
Meet tries to leave but Babita stops Meet and says she will not go anywhere. Meet asks Babita if she doesn't go how can she find Meet Ahlawat. Babita blames Meet and asks Meet to stop playing dramas and asks where is Meet Ahlawat. Meet says she didn't kidnap Meet Ahlawat. Laila is shown to be hugging Meet Ahlawat who is unconscious. Babita shows the Diya and says to Meet that Meet Ahlawat has bought them to light them on the occasion of Diwali. Babita says if Meet Ahlawat doesn't return on Diwali then Ahlawat's mansion will be in darkness. Meet says she will never allow it to happen. Meet lights a Diya and promises infront of the god that she will bring back Meet Ahlawat and says he will be the one who will light the Diya infront of Goddess Lakshmi. Meet gives the Diya to Babita and says it is her promise to her.
Episode ends
Also See: