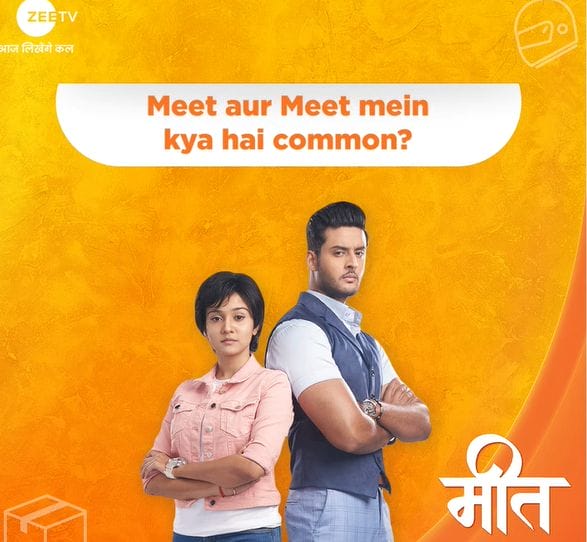 Meet 16th October 2021 Written Update on TellyExpress.com
The episode starts with Raj about to thank Meet but Meet stops him saying she did for their family. Rajvardhan says your hair is short but your heart is big. Meet says your heart is big too and why you're awake at this time. Raj says he wants to enjoy sugar wali chai. Meet too gets excited and they becomes tea partners. Raj prepares tea and tells to Meet that I know that I made you guys strucked in marriage but you have to handle it. Meet says she don't know how to ready like other girls and not beautiful like them. Raj says you're beautiful from heart and Meet will take time to understand it so please wait for sometime. Meet agrees.
Meet sleeps in Guest room but he gets shocked seeing Chavi in Guest room. Chavi asks what's he doing in guest room which belongs to her. Raj asks Meet to take it like exam and asks her to fulfill his dream by becoming ideal couple of his wish. Meet agrees. Meet Ahlawat about to leave from room than Masoom comes to room. Meet says I don't know Chavi in this room. Masoom says Chavi came to learn work from you so you have to become her mentor and make her work for 24/7. Meet leaves. Chavi says she can't work. Masoom says it's just bahana and this mentor thing is used to get close to him than you can become Mrs Meet Ahlwat. Chavi happily agrees and asks if Meet Ahlawat spends his first night. Masoom says it won't happen.
Meet Ahlawat returns to room. Sunaina tells to Ragini that Meet came out from his room thsn he again went to his room. Ragini smiles. Meet Ahlawat applies lotion. Meet asks why he returned. Meet Ahlawat says it's his room and he asks her to do her work without stressing him. Meet applies cream than Meet says you're applying creams like Manushi sister. Meet Ahlawat leaves angrily. Meet scolds herself for hurting him.
Manushi applies creams to her body. Kunal says what's need of creams as you're already beautiful and let's spend quality time. Manushi asks him to get freshen up. Kunal receives call from drug dealer and they warns him to come down to meet them. Kunal lies to Manushi that manager came to meet him. Manushi asks him to make his Dad agree so they can leave. Kunal agrees and goes to meet them.
Meet as Meet which side he needs. Meet says he will sleep in sofa. Sunaina feels excited to hear what's happening in Meet room but Masoom says nothing will happen. Ragini says watch think positive program and anything can happen in any moment. Meet coudnt sleep in sofa as it's short and Meet smiles seeing him. Meet shouts when he fell down. Meet too shouts and Chavi goes towards his room. Masoom says don't imagine as nothing might happen. Sunaina and Ragini says things change post marriage. Meet Ahlawat asks Meet to sleep in sofa than Meet says this is my room to as Ragini aunt told me so I will sleep in bed itself and both fight eachother for bed sheet and light. Meet Ahlwat tells her he can't sleep without light. Meet turns than Meet Ahlawat sees her face than he says you face reminded me bad moments. Meet says she have a solution and I need Athodi so get it. Meet asks why she needs hammer. Meet says get them than you won't see my face. Meet opens the door to get it thsn everyone fell inside and Chavi fell on him thsn he asks what are they doing inside. Ragini asks Meet why she is standing on bed.
Episode ends.
Also check: