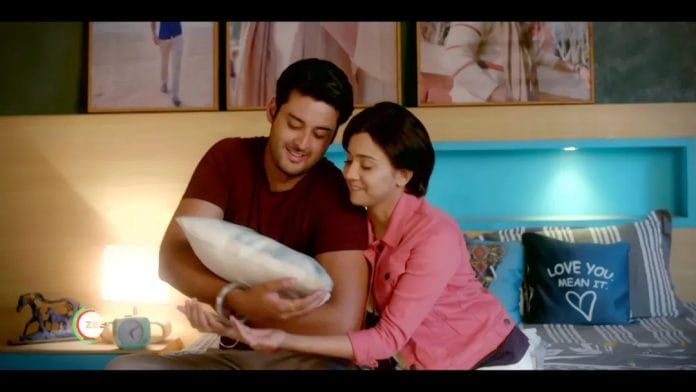 Meet 19th January 2023 Written Update On TellyExpress.com
The episode starts with Manmeet saying to a child that when he is going to win a lot of medals in the Olympics her grandmother in heaven is going to clap for him. Meet comes to meet Manmeet. The child says to Manmeet that Meet came to meet him. Manmeet sends the child to bring Lassi. Manmeet greets Meet. Manmeet says today is very important day for him. Meet says she heard him talking and says he is going to fulfill his dream. Manmeet says today he has a very important meeting with the Sir. Manmeet notices that his shirt button is missing he looks for thread and pin. Manmeet finds them but Meet notices that Manmeet is having a problem with it. Meet helps him. Manmeet worries about the meeting. Meet helps him in stitching the button.
Babita thinks how much time for Meet to get here. Chanda offers Raj and Babita tea and snacks. Chanda says their house is small. Raj comments on it. Raj and Babita worry about Meet. Babita says Meet's heart is thinking of reasons to meet Manmeet. As Meet brought them here and she went to meet Manmeet to give the Chunri.
After the meeting went well Manmeet praises Meet as her lucky escort. Manmeet says he used to be very close with his grandmother and after that if he can share his heart with anyone then it is her. Meet gives the chunri to Manmeet. Manmeet shares his past with grandmother on she used to encourage him while he does wrestling. Manmeet asks Meet if she is going to help him in fulfilling his dream or not. Meet recalls the word she gave to Meet Ahlawat about fulfilling his dream. Manmeet sees Meet is again absent minded. Manmeet apologises to Meet saying if he did anything wrong. Meet gives the Chunri to Manmeet and says this is their last time meeting. Manmeet says the God will decide if their paths will ever cross again. Meet leaves from there.
Meet comes and says to Babita that they have to stay here for the night as they don't have any chance to repair the car here. Raj asks Meet to find out if there is any hotel here. Chanda says she got a chance to serve them and she will not miss it. Meet asks Chanda where is her husband?
Chanda says his man went to Sarkar's house to decorate as a new bride is going to enter their house in 10 days. Meet says all his sons have been married. Chanda says if a wife doesn't give birth to a child then the guy is forced to marry another wife. Chanda says Narendra's first wife Swapna gave birth to a child who is dead, then he married a second wife and she is also not getting pregnant so he marrying a third wife. Raj asks if there are no educated people in this house. Meet asks if the bride agreed to this marriage. Chanda says even Narendra doesn't know who is going to be bride. Babita asks Meet to just focus on the factory. Meet feels this is somehow connected to her.
Sarkar tells Mahindra to show how strong he is today. Raj hears someone knocking on the door. Raj asks Chanda who is it? Some people bang on the door. Chanda puts some furniture behind door to stop Mahindra's men from coming inside. Chanda says to Raj and Babita that Mahindra's men came here and asks them to hide. Mahindra's men see that Chanda is not opening the door so they try to break the door.
Chanda seeing this calls Manmeet and asks him to come quickly. Chanda tries to stop Mahindra's men from coming inside but she fails. Chanda asks Mahindra's men to leave Raj and Babita but they don't listen. When they try to hit them Manmeet defends them. Mahindra's men warn Manmeet that he is going against Sarkar and it will not be good for him. Manmeet taunts them and challenges to come. Mahindra's men leave from there. Chanda thanks Manmeet. Manmeet says there is no need for it.
Manmeet asks Raj and Babita why are they here? Manmeet asks where is Meet? Meet is shown to be sleepwalking in the streets. Babita says to Manmeet that Meet went through trauma after that she sleepwalks in her sleep. Manmeet says he will find Meet and bring her. Meet thinking of Meet Ahlawat is about to jump into the well but Manmeet stops Meet. Manmeet asks Meet if she is mad and reminds Meet that it is a sin to commit suicide. Meet sees Manmeet and thinks it is Meet Ahlawat and hugs him. Meet says she can handle any kind of pain but not the pain of losing him. Meet asks Manmeet to promise him that he will not leave her again.
Episode ends.
Also See: