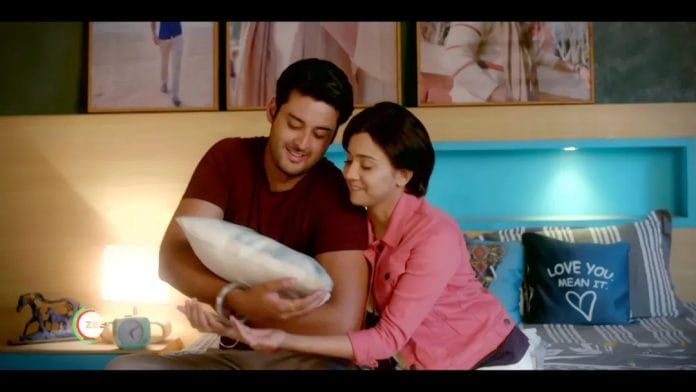 Meet 19th November 2022 Written Update On TellyExpress.com
The episode starts with Babita asking the family members to put some sense into Raj. Ragini tries to convince Raj. Raj says he also loves Meet Ahlawat and says Meet is not that stupid to send us a video that will alert us and shows the video to Babita and says we can see that Meet is forced to do the video. Raj says this video is made under the pressure of Neelam. Babita asks Raj to come with her to the hospital to see who is telling the truth. Raj and Babita leave for the hospital. Barfi returns to the Ahlawat mansion.
Meet tries to get out of the box. Meet recalls her memories of herself and Meet Ahlawat on the occasion of Diwali. In her memory, they promise each other that they will live with each other no matter what. They will become beacons for each other. Meet regains consciousness and tries to escape from the box. Ishani reaches the location and calls for Meet but she doesn't get an answer from Meet as she is buried. Ishani sees Meet's phone and thinks Meet might be near here. Ishani calls for Meet.
Babita asks Barfi if Neelam is in the hospital. Barfi thinks of what to tell Babita as Neelam is not in the hospital.
Laila says to Meet Ahlawat now there is no one between us and says we will go to a place where only she will have the right to love him. Laila promises Meet Ahlawat that from now on no one is going to disturb him. Meet Ahlawat takes Meet's name in his unconscious state. Laila says she is going against the whole world for him and says now he is taking Meet's name instead of hers. Laila says she is giving him this medicine so that he will forget Meet forever and after that, he will only have one name in his heart and mind i.e. Laila. Laila gives Meet Ahlawat the medicine. Meet makes a small hole in the box and sand falls into the box. Meet tries to make the hole bigger.
Babita asks Barfi to make the video call to Neelam. Barfi tries to make a video call to Neelam. Barfi thinks if Neelam didn't pick up the call then everything will be over. Laila is shown to be disguising Meet Ahlawat. Laila sees Barfi is calling. Raj comments as Neelam is not picking up the call and they decide to go to the hospital. Meet's hand comes out of the ground. Ishani sees Meet's hand out of the ground.
Laila disguises herself as Neelam and calls Barfi. Barfi says Neelam is calling. Barfi asks where is she. Laila acts as Neelam and says the hospital staff took her for a few tests. Masum says to Raj that there is tiredness in Neelam's face and asks Raj how can she do all this. Laila asks them if everything is alright. Babita assures thinking it is Neelam that everything is fine. Ram convinces Raj to allow Babita to call the police. Babita calls the police and asks them to come here and says she has some information for them. Babita thanks the police and cuts the call. Laila praises herself for her acting and says goodbye to the Ahlawat family. Ishani digs and saves Meet. Meet falls unconscious.
Episode ends.
Also See: