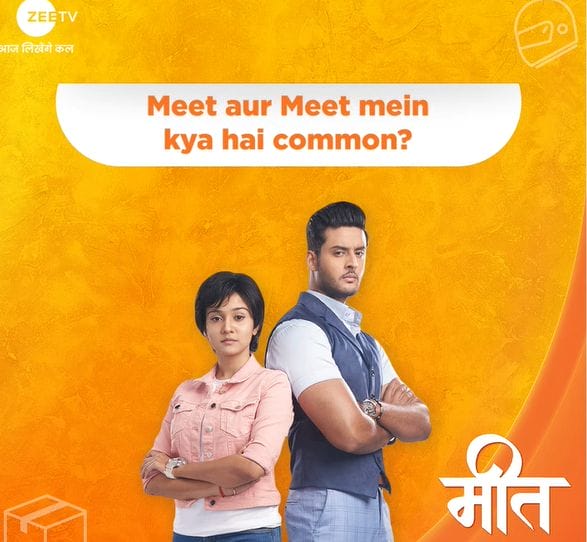 Meet 19th October 2021 Written Update on TellyExpress.com
The episode starts with Meet coudnt wear saree in her jeans than she notices belt and wears the saree with help of it than she receives call to pay the electricity bill of their Hooda home. Meet tells him she will pay soon than he tells her that she only have 7days time. Meet calls her manager and asks him for advance but he asks when will you join the work? Than only we can pay you the salary. Meet tells him very soon she will join than she decides to talk with Rajvardhan regarding her work.
Babita gets impressed with flowers than she notices saree and jewellery already kept according to her choice than she thinks who read her. Rajvardhan tells her he can read her and brings favourite food to her. Babita says it's not our anniversary or birthday than why you're showing this much love. Raj says no need of day to express the love than both of them reminds how they supported eachother. Raj request Babita to give chance to Meet.
Meet Ahlawat on call tells him that he is coming and he notices Meet is applying single cream for her hands and face than he asks about it. Meet says her cream is all rounder like her. Meet Ahlawat notices she is wearing his belt and he asks her to return the belt to him but Meet runs from him and he chases her. Babita says now I understood that you did all these things to talk about that girl and she throws the flowers. Raj says you're wrong and I'm thinking for our son and he needs selfless life partner and she is ready to gets jailed for our son so understand her goodness and give one opportunity to her.
Meet ruins everything in hall while escaping from Meet Ahlawat. Babita gets shocked seeing everything. Chavi thinks she will get entertained when Meet gets punishment. Masoom asks why she became their house like their street. Babita asks why she wore saree in this way. Meet says I can organise everything but your son is behind me for belt so stop him. Babita asks if he wants her to accept this kind of girl. Raj says yes and she wore saree in respect of you so design her clothes. Babitha denies later she accepts. Meet thanks Babita than says this Dhodu ram won't run behind me for belt.
Raj tells to Meet that Babita want to talk with her. Meet says his belt than Raj asks him to wear another belt. Meet Ahlawat leaves saying later he will teach her lesson. Babita says their is no common thing between us. Meet says her name and their son name is same. Masoom mocks her than Raj stops her. Babita says your marriage is done with my son and she asks what she knows. Meet says she knows how to repair everything at home. Masoom asks if she knows about cooking, Painter and other things which girls do. Meet says she dont about them but I can learn everything easily of you teach me. Babita says no need as we have workers but you became Daughter in law of this house so you have to look beautiful, stylish and elegant, can you learn it? Meet says it's easy to repair Ac and Refrigerator but it's tough what you asked me to do. Babita says so you can't learn. Raj says she will learn with time. Babita asks how much time she needs to prove herself as their daughter in law. Meet asks how can she say as she don't know about them. Babita says you have 6months time to become the girl of Meet choice otherwise you have to leave from our house.
Episode ends.
Also check: