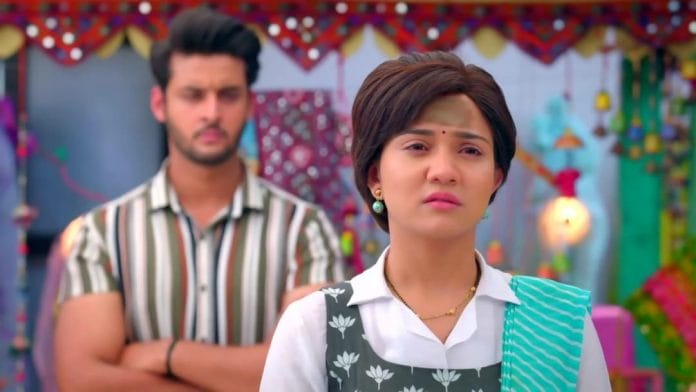 Meet 1st November 2022 Written Update On TellyExpress.com
The episode starts with Ragini saying to everyone that Ishani is her friend's daughter. Raj welcomes Ishani and praises the name "Mishri" that she gave. Meet also seconds it. Babita says that her name Ishani and Isha's name are like the names of sisters. Raj agrees. Raj gives a gift to Ishani because she selected the name. Ishani takes the gift envelope that Raj gave. Ishani sees Ragini worried and says the people only worry when they make a mistake and try to hide it. Ishani says she is not a mistake and says to Ragini until she tells everyone what is the truth she will stay here.
Meet sees Meet Ahlawat talking on the phone. Meet decides to make Meet Ahlawat meet Laila. Ragini says to Ishani that she can't stay here and asks her to leave. Ishani says she has the right on relations as much as she has. Ishani throws the photo frame of Isha. The photo frame falls near Ram's feet. Meet says to Meet Ahlawat that she has a surprise for him and asks him to come. Ram puts the photo frame on the table and asks Ragini to come to a side.
Ragini comes to a side. Ram questions Ragini on who is Ishani and her behaviour as she threw Isha's photo frame and occupied her room. Ishani comes and says she didn't like the guest room that's why she is staying here. Ram says to Ragini that this is Isha's room and it will be locked until Isha returns and leaves from there.
Babita asks Meet and Meet Ahlawat where are they going? Both of them give different reasons. Meet tries to cover it up saying first they are going to meet Dadi then they will go to a lawyer to talk about Mishri's adoption. Babita says there is no need and says Raj already talked to the lawyer. Babita says Neelam has to go somewhere and asks Meet Ahlawat to take her.
Meet doesn't agree at first but after Babita convinces him he agrees. Babita calls Neelam and says Meet Ahlawat will take him. Barfi says she will take Neelam. Babita stops Barfi. Meet says she will go to meet Dadi. Meet thinks her plan to make Meet Ahlawat meet Laila failed. Meet. Ahlawat says to Meet that they should tell Babita about their relationship. Neelam comes and asks both of them to go and says she will go with Barfi to the hospital. Meet thanks Neelam and leave from there.
Meet takes Meet Ahlawat to a bar where Laila performs. Laila gets ready in her room. Drunken men pass comments on Meet. Meet Ahlawat gets angry at them but Meet controls him. Meet Ahlawat asks to Meet what kind of surprise it's. Meet says I know it's a weird place but wait for some time. She makes him sit so no one can disturb them. The host announces Laila's performance. Everyone shouts Laila's name in excitement. Some drunken man comes to Meet and asks her to perform for them.
Meet Ahlawat gets angry and tries to hit him but Meet stops him. Meet Ahlawat tells Meet that he can't stay at this place. Meet tries to stop him. Everyone says Laila is here. Meet and Meet Ahlawat stop seeing her. Laila enters the stage and performs on stage with a mask. Meet and Meet Ahlawat notice her performance. Drunken people surround Laila. Meet Ahlawat asks Meet to tell him why he brought him to the bar. Meet says she wants to make him meet Laila who was raped like Neelam and faced the same pain.
Episode ends.
The episode starts with Neelam getting scared and Meet tries to calm her down, Neelam gets restless and breaks down to tears. Ragini meets the inspector and asks him why he called her at police station. Inspector says a bar dancer took her name when they raid a party last night. Ragini is shocked to hear that. That bar dancer comes to meet her. Meet asks Neelam to tell about that incident when she was molested. Neelam hesitates to tell and gets afraid. Meet Ahlawat says Neelam can't share that horrific incident that easily. They should not force her to reveal anything. He tells her to relax and comforts her. He takes her to room. Meet thinks they need to make her trust them, else she won't be able to face her fear ever.
Hosiyar's friends talk to Hosiyar and tell him to go to bar to see Laila's dance. They praise Laila but Hosiyar scolds them saying he is not interested in all these. He tells them to leave when they insist him to have fun. Meet talks to Hosiyar about the dancer Laila. Hosiyar says he is bound to share room with those men but he never goes to bar. He requests Meet to not tell anything to Masoom. Meet learns about Laila's story how she was raped and then her family didn't support her so she became a bar dancer to earn money.
Also See: