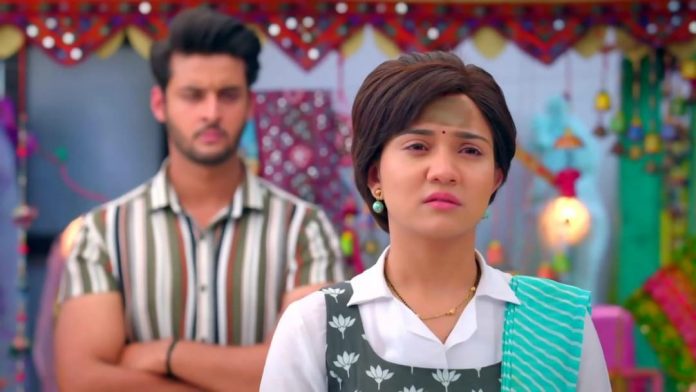 Meet 20th June 2022 Written Update On TellyExpress.com
The episode starts with Meet Ahlawat telling Meet that law of attraction is very strong and he can commit mistakes. Meet pulls his ear saying if he makes any such mistake she will teach him a lesson. Meet Ahlawat gets Tanya's call and he turns on the speaker. Tanya fixes tomorrow's date for the photoshoot and Meet agrees. Tanya tells Meet Ahlawat to meet her soon. Meet kisses on his forehead and he leaves.
Some ladies come over to give some presents to Meet. She greets them and says she doesn't care whether it's a girl or boy but she wants her child to have a big, kind heart like Meet Ahlawat. Meet Ahlawat meets Tanya at a bar and the latter shows him the designs, dress, theme to Meet which she selected for the photoshoot. He says he will select the dress for Meet as he knows what suits her the most.
Tanya says but she wants to select his clothes. He allows her to do that. He orders drinks for her and himself. He says sorry to her for not asking about her choice. Tanya replies in college also he used to order drinks for her. They drink vodka shots and Meet Ahlawat says he is missing Meet a lot. He asks Tanya whether she has someone special in her life. She says her eyes were on Meet Ahlawat but he left her. He feels awkward and she laughs at him saying she was joking.
She goes somewhere for some work and he hallucinates. He imagines Meet in front of him and gets close to her. He kisses Tanya on her lips and calls her as Meet. She says she is Tanya not Meet. Meet Ahlawat realises the blunder he did and says he didn't mean that but he thought she was Meet whom he is kissing.
He panics and Tanya says she also should have stopped him but she became weak. Meet Ahlawat gets Meet's text which says she is missing him a lot right now. She also sends I love you to him. He doesn't reply and Tanya asks him to not tell her what happened between them. Meet checks her phone again and again to see if he replied to her text.
Dadi teases her saying seems like Meet has changed a lot. She didn't want to marry before but she looks so much in love. Meet Ahlawat reaches home and asks Raj if someone commits mistake unknowingly then what that person should do. Raj suggests that the person should move on forgetting that.
Next morning Meet comes in disguise of a servant to surprise her husband. Meet Ahlawat wakes up and asks her why she came in early morning. She says today is her photoshoot so she doesn't want to be late. He says she didn't want the photoshoot but now she is excited. She says she was never against photoshoot but she asks him why he didn't text her back saying l love you. He tells her I love you and she asks him to get ready.
During photoshoot Tanya instructs Meet to stand in proper position but Meet Ahlawat looks nervous and he behaves weirdly around Meet. He says he is ready to do what Tanya said. But then he fails to hold Meet properly for the photoshoot. Meet asks him why it looks like he is hiding something from her. He says nothing like that. Meet tells him to practice more with Tanya. She leaves.
Tanya tells Meet Ahlawat not to overreact as Meet might doubt them. He says she should keep her volume low. He adds there's nothing to hide and he has to tell the truth to Meet, that kiss means nothing to him. That was a mistake. She says she will leave tomorrow after catching the first flight, he says that will not solve anything but he believes Meet will understand his situation when he will talk to her.
Episode ends
Also See: