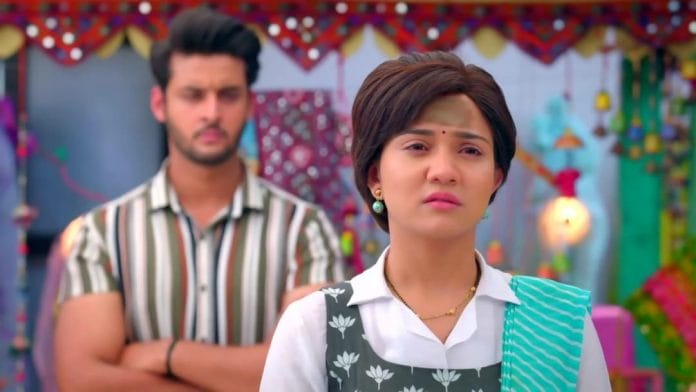 Meet 21st July 2022 Written Update On TellyExpress.com
The episode starts with Meet watching garba dance video. Meet Ahlawat comes to her room and looks at her. She asks him what happened? He keeps finger on her mouth and then treats her wound. She is surprised to see his changed attitude. He is about to leave and she asks him why he is behaving so nicely with her suddenly? He leaves without answering. He then goes to his room and says no plan is working so this is the only way to expose Meet now. He adds he will show love towards Manjiri and will decide to marry her and Meet will feel jealous thinking he doesn't love her anymore. She will show her true colors to everyone then.
Meet talks to Popat that she already won Manushi's trust and the latter thinks she is garba dancer Manjiri. Now she wants to act more naturally so that she gets to know about her child from Manushi. Manushi calls her and asks her for a favour. Meet says she would love to favour her but what she has to do? Manushi asks her to bring Meet's jewels from Ahlawat Mansion. Meet thinks Manjiri will remain a greedy person no matter what happens. She asks Manushi but why she wants those jewels. Manushi replies those are Meet's last sign and she wants to keep them safely near her as a memory. Meet gets emotional hearing her lies. Manushi tells her to take the keys from Raj for the locker and since he thinks she is Meet he will give them the keys easily. Meet replies she will give her the jewels.
Kunal praises Manushi for her brilliant acting. Manushi waits for Manjiri and Meet arrives with a bag. She compliments Manushi's look and hairstyle and the latter tries to take the bag from Meet. Meet says she didn't bring her jewels as Manushi didn't show her the exact pictures of the jewels. When she opened the locker there were many heavy jewels so she couldnt identify which ones belong to Meet Hooda. Ahlawats would have considered her a thief thus she didn't steal any of them. She brought samosa for Manushi in the bag. Not any jewels. Manushi gets irked and Meet leaves thinking she will not let Manushi snatch anything from Ahlawats anymore.
At dining table Meet Ahlawat checks the accounts of the business and finds out Ram has withdrawn huge amount of money from there. He asks Ram about the purpose and the latter says he did that for investment. Ragini looks nervous as that was for Isha's wedding. Meet Ahlawat trusts Ram. Meet Ahlawat and Meet bring Raj to the dining table. Raj says before Isha's marriage he wants to fully recover. He will have food with his family from now.
Raj says he wants to eat samosa as he is tired of eating light food. Babita stops him and Meet serves him Poha. Meet serves samosas to Meet Ahlawat but the latter says he has to go urgently to office. Raj stops him and asks him about his disorganised tie. He tells Meet to fix that. Masoom says she will do that as Meet and Ahlawat got separated. Raj says he told Meet to help her husband, why Masoom is interfering? He tells Masoom to understand the simple thing that Meet is still Meet Ahlawat's wife. Meet tries to fix the tie but she fails to reach Meet Ahlawat's neck due to his height. He brings a stool and she stands on that. She fixes the tie and they share an eye lock.
Raj says Meet's come back has brought smile on their faces. Everyone is happy. He announces that with Isha's wedding they will get Meet and her husband married to each other as well. It will clear their issues and they will start afresh. Masoom starts coughing hearing that and Meet also gets shocked.
Episode ends
Also See: