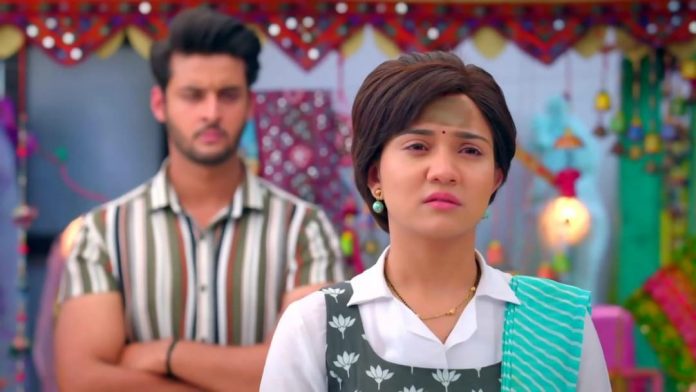 Meet 22nd June 2022 Written Update On TellyExpress.com
The episode starts with Meet sitting in a park. She says Meet Ahlawat expressed his feelings to her here only and she has so many memories to cherish for. She still remembers his promises but he broke them that hurt her a lot. She talks to her baby that the latter is trying to convince her to forgive Meet Ahlawat but she wont forget this matter easily.
Raj tells Meet Ahlawat that Meet will surely forgive him after some time. Masoom says Meet is not answering her calls and Meet Ahlawat already told her that the kiss was unintentional then why she is overreacting. Her in laws are not at fault then why she is punishing them too. Meet Ahlawat says he will call Meet right now. He calls her but Meet doesn't see that as the phone ringtone was silent.
Meet Ahlawat asks Babita if Meet decides not to forgive him ever then how will he live without her. He will die, Babita shuts him up saying Meet is not that kind of a girl, she knows how to unite people and she will soon come back to him.
Meet tells her baby that though Meet Ahlawat made a mistake but his family is really supportive towards her and they are eagerly waiting to see the baby so it won't be fair to punish them for no reason. She says forgiving is better than holding grudge and since Meet Ahlawat is guilty she will sort out the issue with him. She decides to call him so that he comes to her and they spend time together. She tells her baby that they will have ice creams together.
Meet tries to call Meet Ahlawat but then she feels labour pain suddenly. She screams and sits on the bench. The people out there go to her and ask if anyone knows her. Manushi arrives by hiding her face, she says she knows Meet and she will take her to the hospital.
Meet Ahlawat keeps calling Meet but noone picks up. He thinks how can Meet just ignore him like that, he will call her constantly and she has to answer his call. But Manushi cuts the call and switches off the phone. Meet Ahlawat tries to trace her number but it doesnt show any location.
Manushi smirks and says now she is back to take revenge from her sister Meet. Meet and her husband both humiliated her a lot and she won't stay quiet. She got the opportunity to snatch Meet's happiness. She says now Meet Ahlawat won't be able to reach Meet as the phone is also switched off.
Meet Ahlawat panics and Babita asks him to contact Anubha. He calls Anubha to know if Meet is there and the latter says she thought Meet went to Chandigarh to meet him. She left a note too. Meet Ahlawat says she should not worry, he will find her. Ahlawats decide to find Meet as she might be in trouble. Raj leaves with the men of the house.
Manushi takes Meet to an unknown hospital and says it will be hard for Meet Ahlawat to find Meet. Meet gains consciousness inside delivery room. She asks the doctor about her family. She says they should be present here to see the child. Doctor says her condition is really poor but Meet tells her to inform her family once.
Manushi prays to God that Meet's in laws should not reach hospital before Meet's delivery as she wants to take the child before Meet's family. Babita worries for Meet and doctor calls her after taking the number from Meet. Babita doesn't pick up thinking it's from an unknown number but Ragini tell her to receive it as it might be important. Babita gets to know that Meet is admitted to the hospital and her delivery will happen immediately. Babita gets the address and informs it to Raj. She also leaves with Masoom.
Episode ends
Also See: