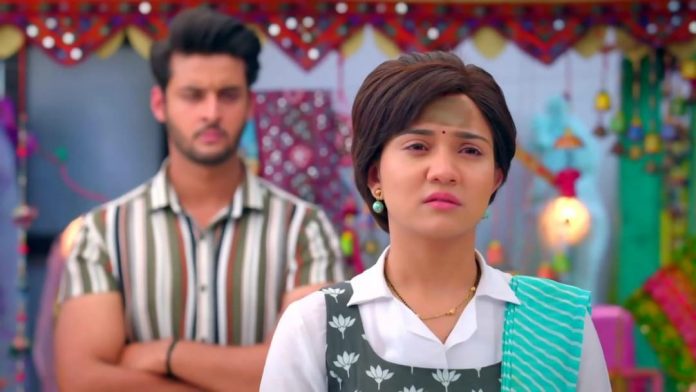 Meet 23rd June 2022 Written Update On TellyExpress.com
The episode starts with Babita and Masoom reaching the hospital in hurry. Manushi sees them and gets shocked. She says how to stop them from going to Meet as the delivery is still not over. Masoom says this hospital is really dirty. Babita doesn't pay heed but she goes to see Meet. Masoom says now Babita is just excited to see the baby.
Manushi sees a person who is asked to pay the bill but has no money. She offers him money and tells him to distract Babita for ten minutes. The person bumps into Babita and creates scene that rich people are always mean who make poor people suffer. He acts like he got fracture in his hand. Masoom warns him to not blame Babita. He stretches the matter and Manushi enjoys the scene.
Manushi decides to elope with Meet's baby without anyone's knowledge. She learns Meet gave birth to a baby boy. She then hears that a nurse is talking about a dead newly born child whose parents are missing. She fears losing her job so Manushi offers her money as well to execute the plan. Babita calms Masoom and goes to the delivery ward.
She sees Meet is sleeping. She goes to see the baby slowly. She says she scolded Meet a lot before his birth but it was for his good only. Babita gets surprised seeing no child is there. Manushi asks the nurse to do her job. She takes Meet's baby and says now Meet will never be able to hold her son in her arms. She will keep searching for him.
Nurse lies to Babita that Meet gave birth to a dead child and due to certain complications she will never get pregnant again. Babita is left stunned to hear all of that and breaks down to tears. She says they had dreams to pamper the child and welcome him but what was their fault that God snatched him from them.
Meet gains consciousness and asks Babita to give her the baby. Babita reveals her child is born dead. Meet can't believe that and she says she felt her baby in past nine months, she used to talk to him then its not possible that he is dead. Babita hugs her and consoles her. Babita informs Masoom saying she cant understand what she should do now and the Masoom acts like she is shocked. Masoom says Meet Ahlawat will not be able to accept the truth so they should hide it from him. She gives an advise to Babita.
Babita goes to Meet and says the latter loved her in laws and her husband a lot. But destiny wanted something different. She says she can understand Meet's pain as she lost her child and now she can do one favour on them now. Babita requests Meet to leave Meet Ahlawat forever. Babita also reveals that Meet has become infertile as well and she can never make Meet Ahlawat a father. So it would be better she leaves him without telling him.
Meet Ahlawat will hide his pain from her and will not leave her and it will kill him from inside with each passing day. Meet remains silent and Babita leaves saying she should cut ties with her husband for his happiness. Masoom asks Babita if Meet agreed. Babita says they will soon come to know about that. Meet recalls her husband's words that how he wants to become a great father. She recalls what Babita told her. She finds herself in a tough spot.
Episode ends
Also See: