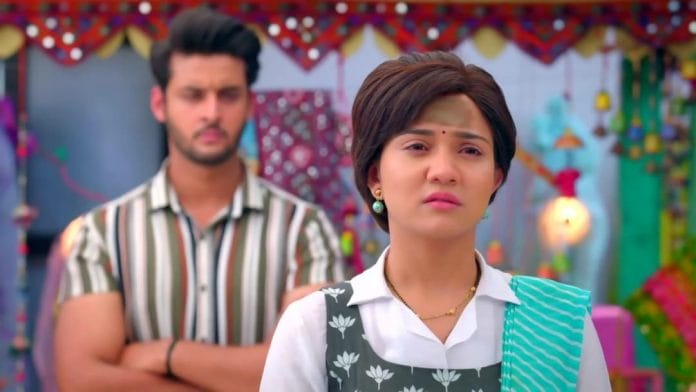 Meet 23rd September 2022 Written Update On TellyExpress.com
The episode starts Meet telling Meet Ahlawat if he is feeling hungry then he can eat food. He says he won't eat here but he tells her to stop the car near a restaurant. Meet stops the car and he asks why she stopped it here. He also asks her to open the handcuff. She says she knows he is planning to run away but that won't happen. He says he has to go to washroom. She says he can go on one condition. She ties his legs with rope and he jumps to go near the wall in order to pee. She whistles and holds the rope end. He gets annoyed and tells her to stop. Raj praises the pleasant weather in their home stay. He says he is at peace, their decision of going to yatra was correct. Babita waits for Meet and it surprises Raj. She hopes that Meet will successfully bring Meet Ahlawat here.
Meet reaches the destination in early morning by driving. Meet Ahlawat wakes up and she frees him. One suspicious man and a woman walk in the market. The woman named Puja gets scared seeing police. The man tells her not to show nervousness on her face else they will get caught. The cops are not here to catch them for now. The baby starts crying from the basket they are holding. He scolds her for not making the baby fall asleep by giving medicine. He gives it to the baby to stop the noise and the latter sleeps again. He tells Puja to give him the coupon.
Meet Ahlawat stands with Meet near them. Meet Ahlawat says he is leaving and Meet can't stop him. She follows him and their baskets got exchanged with Puja's basket. Meet requests Meet Ahlawat to stop and gives him swear but he says theres nothing left between them so he won't stop. She says atleast he can stop for his father. He will get to spend enough time with him here and can even get his forgiveness. Meet Ahlawat gets Barfi's threatening call that if he doesn't come back on time, Isha's life will be ruined. Meet Ahlawat still tries to leave ignoring Meet. She asks him what happened to him that he is not bothered about Raj too. He says she won't stop him from leaving. She gets upset and walks alone. Meet Ahlawat overhears a priest's words that here they can perform puja for departed soul's peace. He says Deep also died so its the right scope to perform the rituals for him. It may be the destiny's sign too.
Isha taunts Neelam when the latter talks ill about Meet. She says Meet forcibly took away her husband and he could not go with her to the village. Isha says it is Neelam's fault that she tried to come between them as a third wheel. Meet and Meet Ahlawat are in love and Meet kidnapped him for the love she has for him. They will get united after that. Neelam can't get him forcefully. Meet notices Meet Ahlawat beside her. She gets delighted and says she knew he won't leave as its about Raj. She thinks she will try to find out why Meet Ahlawat married Neelam and Raj will also forgive him after knowing that maybe. A red chunri falls on both of them. They share an eye lock and (Thodi der aur Theher ja song plays in background.) Meet Ahlawat leaves after removing the chunri.
Episode ends
Also See: