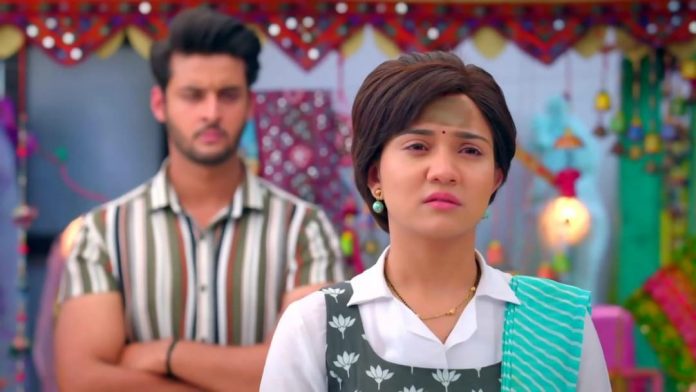 Meet 24th June 2022 Written Update On TellyExpress.com
The episode starts with Meet's alter ego appearing in front of her. She taunts the latter saying she is being selfish and not leaving Meet Ahlawat but the truth is she never gave real happiness to him. Because of her he will never become a father. She should leave him for his good. Meet recalls Raj's words that he told her and her husband to stay together always. Meet says she can't leave her husband in this difficult times. He needs her support and not just he lost his baby but she lost it too. She carried the baby for nine months and she went through the same amount of pain which he will feel. Her alter ego says but she will never get pregnant again. Meet tells her to disappear.
Meet breaks down to tears and says she thought she will hold her baby in her arms but God snatched her baby. She gets a phone call and Manushi talks from the other side. Meet asks her how come she knows about her pregnancy. Manushi says she is going to be Maasi how can she not come to see her? Meet gets shocked to hear that and says surely Manushi has done something to her baby. She questions Manushi and the latter says her baby boy is fine and healthy. She took him away from Meet and now Meet will never get her son back. Meet warns her but Manushi says now everything will happen as per her wish.
Meet Ahlawat reaches hospital and goes to see Meet and their baby. He doesn't find anyone and the nurse lies to him that Meet gave birth to a dead child. It was a son. Meet Ahlawat gets shocked and can't believe that his son is born dead. He cries his heart out for his son. He asks the nurse about Meet and she says Meet had gone to give some tests but now she is missing. Meet Ahlawat gets hyper and says now where will he find her. He has to console her too. He goes out to search for her and shows her photo to everyone on street. He can't find her and gets terribly upset.
Babita says finally Meet took the right decision and left Meet Ahlawat. Now he can move on in his life and live a happy life. Later Raj says they will perform the last rite rituals with the baby, they can't wait for Meet anymore. Meet Ahlawat falters and Tej gives him support. Tej tries to convince him saying Meet will be back soon. She needs emotional support too and he should not be worried. Meet Ahlawat cries badly and misses Meet. He says he needs her at this time and he can't bear the pain of losing their child alone.
He suddenly finds a pendrive and thinks what if it will give him some information about Meet. He plays it and Meet shows up in the video. Meet says she is leaving him forever as he broke her trust and made fun of their marriage by making that mistake. She says she used to think their love is pure but now it's not. She will never come back to him. Meet Ahlawat gets a huge shock and says she can't punish him for his one fault. She can't cut ties with him for his one mistake. He shouts out of frustration.
Episode ends
Also See: