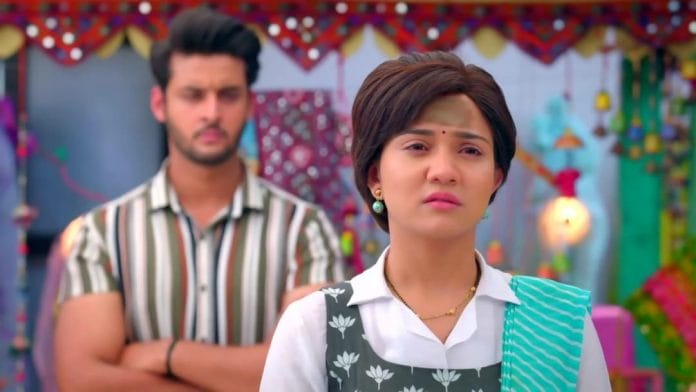 Meet 25th June 2022 Written Update On TellyExpress.com
The episode starts with Meet is trying untie herself. Manushi comes and taunts her saying how is she feeling. Meet asks her about her baby. Manushi says she should relax as she just delivered a baby and she will not get to know about her baby this soon. Meet gets restless. Manushi recalls how she forced Meet to leave her husband forever and then she kidnapped her. Meet said she will leave him but she wants to see her baby. Flashback ends.
Manushi says she has booked flight ticket for Meet and she will fly to abroad leaving her family behind. Meet says she can't leave them. Manushi says she knows her weakness is Meet Ahlawat thus she planned to separate them. They both can't leave without each other and it will easier for her to take revenge from them by breaking them from inside.
Manushi says she will never forget her own humiliation. Meet pleads her not to harm her son and she wants to see him before leaving for abroad. Manushi promises her and shows her the child's video to Meet. Meet gets emotional and asks her not to do this to her sister. Manushi warns her not to be oversmart else her child won't be alive.
Meet says she won't outsmart her but her son should be safe. Meet thinks she doesn't know how Meet Ahlawat will react after knowing the lie about their baby. She doesn't know what the destiny wants. She thinks how to inform Meet Ahlawat that Manushi took away their baby. She regrets for not forgiving him that day when he came to apologise. Manushi tells her that its time for her to leave.
Masoom badmouths Meet for leaving Meet Ahlawat knowingly. Raj shuts her up and Meet Ahlawat recalls the video recording. Raj says Meet is not someone who will run away like this without any proper reason. Manushi takes Meet to a godown and Kunal comes in front of her.
Meet thinks to send the location of that place to Meet Ahlawat by tracing Manushi's number. Meet Ahlawat vents out his frustration saying how can Meet give him lifetime punishment for just one mistake. How can he just make him suffer for whole life. He gets out of control and everyone stops him. Babita thinks where is Meet.
Kunal tries to take Meet to airport but Meet attacks him. They get into a fight and Meet tries to snatch Manushi's phone. Kunal chokes her and Manushi asks her to leave the phone. Meet doesn't give up and the place catches fire all of a sudden. Kunal tells Manushi to run away while Meet gets stuck under a heavy thing.
Manushi tries to help Meet to come out but Kunal takes her out of the place. Meet Ahlawat burns all the things related to Meet saying he also cuts ties with her as she wants that. She is dead for him now. There Meet can't get out of the place and the blast happens. Manushi stands shocked.
Episode ends
Also See: