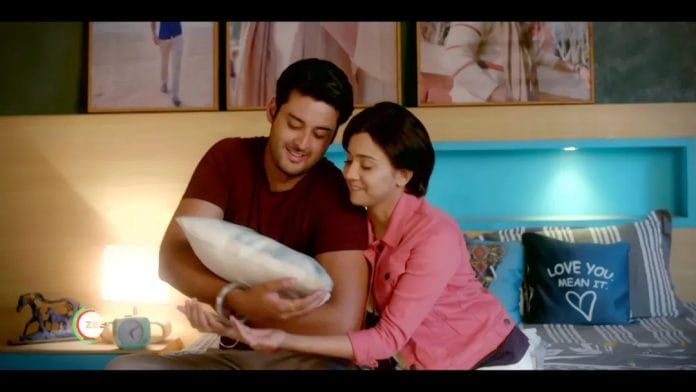 Meet 26th November 2022 Written Update On TellyExpress.com
The episode starts with Ishani saying directions on the phone to Pratap for the Ahlawat mansion. Ram takes the phone and tells Pratap the directions on the phone. Ishani asks Ram why is he suddenly behaving nice to her? Ram says if she leaves hatred and anger then she can save her relationships and leaves from there. Ishani thinks about what did she do so that Ram changed. Ragini also comments on Ram's behaviour. Ram eavesdrops on them and thinks he has to get the college application form in which Ragini wrote the name of Ishani's father.
Ishani greets Partap. Partap greets Ishani and asks why she is here. Ishani says she came here looking for her parents. Pratap also says he came here looking for someone who betrayed him. Pratap says he will show her photo. In the photo is Pratap along with Neelam. When Pratap is about the show the photo to Ishani. Ishani gets a call and says she will look at the photo later. Pratap talks with Neelam in the photo asking where is she?
Laila is shown to be banging on the door. Pratap sees that someone is banging on the door and tries to open the door from his side. Meet stops Pratap and asks him what is he doing here? Ishani comes and says to Meet that Pratap is with her. Meet apologises to Pratap. Ishani asks Pratap to show the photo to Meet. Pratap says this girl is a stain on the name of love and tries to show the photo to Meet. But she gets interrupted as a servant comes and tells Meet someone is waiting for her. Meet says to Pratap she will look at the photo later and leaves from there.
Ishani says to Ragini she used to misunderstand her and says after knowing her for a while she is understanding her little by little. Ram also comes and praises Ishani and asks for her complete name to know the name of her father. Ishani says she just likes being called Ishani.
Meet recalls what she said to Meet Ahlawat. Neelam is shown to be praying for Meet Ahlawat's well being. Meet acts with Ishani to test Neelam. Ishani asks Meet if this is the guy who helped Neelam. Meet says this is the guy who helped Neelam and says she is going to stick the posters over the whole city and the police will look for him. Once the police capture him we will know the name of the poison and antidote. A wind blows by and the posters falls on the ground. Neelam sees the guy's sketch and recalls what he said to Laila. Neelam asks Meet who is he? Neelam asks Meet to take her to the hospital. Meet sees there is no reaction on Neelam's face and says she is not at fault and it is the fault of Laila. Neelam leaves from there.
Meet Ahlawat hearing about what happened from Meet thinks Neelam might not be really acting as Laila and she is really suffering from a problem. Meet recalls what happened and says she completely can't be sure that Neelam is not acting and says she made Neelam think that he is going to get caught. Meet says if Neelam is acting, Neelam is going to try something to contact him and says then we will catch her red handed. Meet Ahlawat also praises Meet. Meet Ahlawat asks what will he do if she is in trouble and he can't help her. Meet asks Meet Ahlawat not to think like that.
Raj is shown to be contacting the doctor about Meet Ahlawat's health. Babita and Raj feel sad about Meet Ahlawat's situation.
Meet says to Neelam that she tried to convince the Ahlawat family but nobody wants her to stay here and says she is going to the mental hospital within two days. Neelam says this is also good for everyone. Neelam says if she can she would have found the name of the poison from Laila. Meet asks Neelam not to think like that and says she has thought of a way to figure out the poison injected into Meet Ahlawat. Meet says she talked to the hospital to give their medical waste to her and says Meet will find the name of the poison from there. Ishani calls Meet like the hospital staff and says they sent the medical waste to Ahlawat's house. Meet thanks Ishani on the phone and goes from there.
Episode ends.
The episode starts with Meet bringing Neelam to the Ahlawat mansion. Hoshiyar comments to Masum on Meet's behaviour. Masum also talks about it. Neelam says to Ahlawat's family she knows she cannot be forgiven and apologises to Ahlawat family and especially Meet Ahlawat for her behaviour. Hoshiyar reminds Meet Ahlawat that Neelam is dangerous and asks him to be careful. Meet asks Neelam to come inside. Raj stops and says Neelam will not come inside and says he arranged for her to stay in the out house. Meet takes Neelam to the out house.
Meet asks Neelam if she wants anything. Neelam asks for some juice. Meet goes to get it. Babita asks Neelam if her drama is over or not. Neelam apologises to Babita and says she didn't do anything. Babita asks Neelam the name of the poison i.e. injected into Meet Ahlawat's body. Neelam says she doesn't know. Babita hearing this slaps Neelam. Laila comes out of Neelam and hits Babita back with a vase. Laila takes Babita's saree and wraps it around her neck and chokes Babita. Meet Ahlawat hears the shouts of Babita and goes to Neelam's room.
Also See: