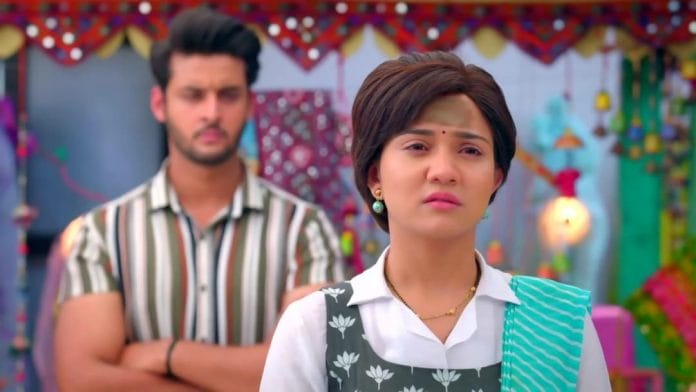 Meet 27th May 2022 Written Update On TellyExpress.com
The episode starts with Meet applying face pack. Meet Ahlawat tries to fix the chair saying Meet is being self obsessed and not looking at the broken chair. Meet says she just did her pedicure and manicure so she can't touch all that. She asks him to fix it. He hits the chair with hammer and she controls her laughter seeing his anger. She says he should slow down else the chair will be finished. He asks her since when she changed herself this much? She says it means the change and facial glow are visible on her face. The groom will like it for sure.
Meet then searches on the internet how to get over previous relationship and forget memories related to old partner. She reads out the solution such as hanging out with friends, crying to vent out the sorrow etc. Meet Ahlawat gets irked and says these are not true. She says it's important that she moves on in her life and she doesn't want to take her previous husband's name in front of her current husband. Raj has faith in her so she won't disappoint him. Meet Ahlawat says she is worrying for the would be husband but not thinking about her present husband who will be left alone after the divorce. He then hides his emotions and she smiles.
Raj comes in and gives the groom's photo to Meet saying she can see him. Meet Ahlawat tries to see the photo but Meet acts shy while looking at the photo. Tej gives flower bouquet to Sunaina and says she is a good cook thus he is appreciating her. She asks him what she can cook for him today? He requests her to help Ram and Lakhan for their cooking competition. Sunaina throws away the bouquet saying it means he wants her to help those boys, he didnt come to spend time with her. He says he thought she has humanity but he was wrong. He adds he is single parent so he will teach cooking to Ram and Lakhan. Ram Lakhan hear that and get upset thinking their plan flopped.
Tej sees the YouTube cooking videos and Ram tells him to send the spreadsheet. Tej says he is busy, Sunaina comes and says she can give the presentation instead of Tej. She wants to focus on her career now. She got distracted a lot. Tej says presentation is not as easy as cooking. Sunaina says she will also see how he cooks by watching videos only.
Meet meets Isha and says the latter should not stay depressed all the time. She should spend time with her family who love her a lot. Though it's tough to forget the mishap but still she should try. Isha hugs Meet and says she will do that. Meet Ahlawat hears their conversation, he observes Meet and she notices him in the mirror. She looks at the photo Raj gave her and gets delighted. She kisses the photo and dances out of happiness. She shows off in front of Meet Ahlawat and he also follows her to see the photo once. He is about to fall and she catches him. He says he has something important to talk about. She smiles looking at Meet Ahlawat's photo and says the groom is really handsome.
Meet Ahlawat says he wants to talk about Isha. He says being Isha's brother he can't see her disturbed all the time. She is not going out or not interested to do anything. They both should do something for her. He suggests Meet that they should unite Deep and Isha. Meet gets shocked to hear that and asks him how is it possible you are in Deep's side. Meet Ahlawat says Deep got his punishment and for Isha's happiness he can do that. Meet says Deep is innocent and it will be proved soon. He says whatever it is but for Isha's sake its necessary they unite her with Deep.
Meet Ahlawat suggests that they will take Deep and Isha to a restaurant but Meet says they will take them to a golgappa stall. It will create a special charm in their relationship. She gets happy thinking Meet Ahlawat is considering Isha's emotions more important than his anger towards Deep. He won her heart again. Meet Ahlawat plans it for tomorrow but she says but she will meet the groom tomorrow. He replies they are going for a long time but will come back. He thinks in mind that he will make sure Meet doesn't reach home on right time to meet the other guy.
Episode ends
Also See: