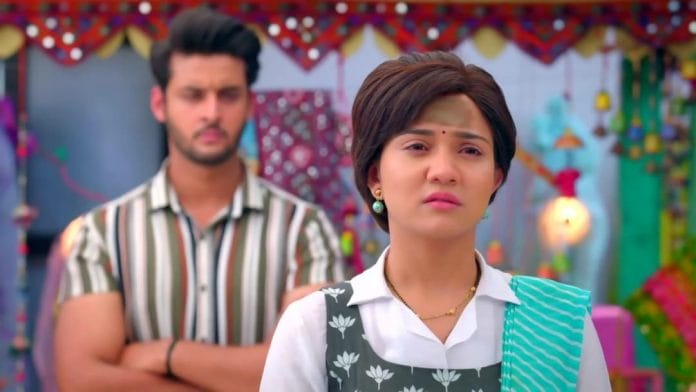 Meet 28th May 2022 Written Update On TellyExpress.com
The episode starts with Meet taking Isha to the market. Isha says she came out just to discuss about Meet's married life with her brother. She says Meet and her brother inspire her the most then why are they getting separated. Meet replies they will discuss about it later. For now they should go to eat golgappa.
There Deep tells Meet Ahlawat that he can't believe the latter came to meet him forgetting all the past misunderstanding. Meet Ahlawat says he doesn't want to talk about the past, Deep says but they should clear things out, he will explain. Meet Ahlawat stops him and then he also takes Deep to the golgappa stall.
Meet bumps into her husband and asks him what he is doing here? He says his car needs repairing so he is looking for a mechanic. Meet acts like getting surprised seeing Deep there. Meet teases her husband saying he can't find a mechanic at a golgappa stall. Meet Ahlawat asks her to repair his car as she is expert at fixing machines. She tells him to say please.
He says please and they leave Deep and Isha alone there. Deep and Isha hesitate to talk to each other. Deep asks her how is she? She says she is good. One person bumps into her by mistake and Deep gets mad at him. Isha stops him and later they sit together. She says she is changed now and he should not wait for her. He says she can take time as much she wants but he won't leave her side.
Meet tells her husband that he can't act at all. But Deep is really patient and a nice guy. He doesn't lose hope for small things. Meet Ahlawat taunts her saying but girls of today's generation are also impatient, they break relations easily and get ready for the second marriage so quickly. Meet thanks him for reminding her of her meeting with the suitor.
Meet decides to leave but Meet Ahlawat thinks of stopping her from reaching home before 4. He says his car needs repairing and Meet gets inside the car and he also gets into the car then locks the car door. He says he lost the keys and the remote as well. She searches for the keys but can't find. She gets angry at him and he says now how will they open the door as he lost the keys. He hides his face and smiles thinking now Meet wont meet the guy.
He recalls how he hid the remote and the keys under his seat. She also hides her smile. She says he can call Isha but he makes excuse. She asks him to call the key maker but he says the number is unreachable. Meet then tries to break the car window and he gets shocked. He thinks how he missed this point that Meet is desperate. Raj opens the door by pressing the remote. Meet gets out of the car and Raj scolds Meet Ahlawat for stopping Meet from reaching home on time.
Meet Ahlawat lies that he didn't do anything, Raj says why do you have problem if Meet wants to move on with another guy? You don't want to stay with her then let her stay happy. Meet Ahlawat thinks he doesn't want to live without her. Meet thinks that she has to continue the drama until her husband admits that he loves her. Meet tells Raj that Meet Ahlawat's face was looking funny and he hid the keys under his seat, she saw that too. Raj laughs hearing that.
Aarav comes to Ahlawat mansion and Raj greets him. Aarav goes inside. Meet Ahlawat looks at him secretly. Meet comes out with Aarav and chit chats with him happily. Meet Ahlawat feels jealous and says what is so special in their conversation that Meet is laughing. He says it means she is really ready for the second marriage.
Meet gets inside the house with Aarav. Meet Ahlawat bumps into Aarav and provokes him against Meet saying she gets seizure attacks three days a week. Since Aarav is a doctor he must be able to handle her. Aarav gets shocked to hear that and Meet Ahlawat warns him. Aarav thanks him for giving the information and leaves. Meet Ahlawat gets happy thinking now Aarav will reject Meet.
Episode ends
Also See: