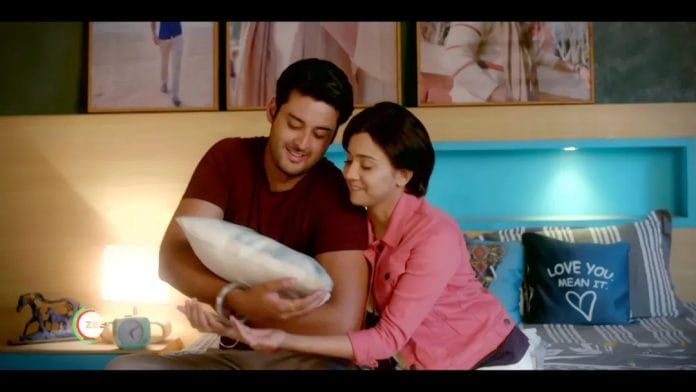 Meet 2nd November 2022 Written Update On TellyExpress.com
The episode starts with Laila performing on stage covering her face with a mask. Meet says to Meet Ahlawat that Dancer is Laila who fought for justice but she didn't get justice and people mocked and pointed her plus Laila got abandoned by her family that's why she is working at this kind of place for income. She says our society doesn't let victim fight for their right, Laila and Neelam are the same but the difference is Neelam is not working in the bar, Laila is alone so her voice is killed but in Neelam's case she is not raising her voice against the culprit so don't know how many girls life that bastard will spoil. Meet asks Meet Ahlawat to think about the pain Laila is bearing. Meet Ahlawat asks drunken men to stop dancing around Laila. He asks them to respect Laila like they respect their family ladies. He covers Laila with his coat. Laila feels mesmerized by his touch. The drunken men warn Meet Ahlawat to leave the bar. Meet Ahlawat pushes one of them. They get angry and surround Meet Ahlawat to attack him but they back out hearing a Police siren and everyone tries to escape from there. Police catch some of them.
Meet and Meet Ahlawat go to meet Laila. They ask the manager for Laila. He tells them Laila is in the make room and asks Meet Ahlawat to go to meet her as Laila permitted him only. Meet asks Meet Ahlawat to meet Laila and tells him she wait outside.
Ragini takes food to Ishani's room. Ishani asks why did you get me so many dishes and I didn't get food like this at the place where I stayed and what's your motive behind this service? Ragini says she can understand her pain. Ishani says you can never understand my pain as your servant's life is better than mine. Ragini says I know that you deserve a better life but it didn't happen because of me, please forgive me if you can. Ishani asks her to stop her drama. She says forgiveness is for the mistake, not for crime and I have just hate for you and will return to you. Ishani throws a food plate and asks her to leave. Ram sees the food on the floor and confronts Ishani. Ragini takes him out saying it falls from her hand. Ram asks why she is protecting her. Ragini asks him to leave and assures him that she will explain to him later.
Meet Ahlawat goes to Laila's room. The curtain separates Meet and Laila. He tells her he came to meet her with his wife Meet. He says Meet is waiting outside and she told me how much pain you're going through and you don't need to work here and if you're fine then you can work in my father's pharmacy company. He gives her visiting card and asks her to call him if she needs any help and tells her that she can choose which work she wants to join by coming to his office. Laila takes visiting card. Meet Ahlawat leaves her room. Laila kisses visiting card and she thinks she will get him before Diwali according to her challenge and lit Diya with him and Meet dreams will turn ashes.
In the car, Meet tells Meet Ahlawat that her respect for him increases more seeing his act of offering Job to Laila. Meet Ahlawat says she made him open his eyes. He says they need to find the culprit's name from Neelam to get him punished. Meet says you gave respect to Laila and if you meet her again then she will say to you 'I love you. Laila sees Meet's coat and says I love Meet, you promised that I can call you and meet you any time and I will definitely come to meet you and when we meet there will be love between us and I want to hear from you that you love me. Meet Ahlawat tells Meet that he just loves his Meet and no one can come in between them. Laila dances with Meet Ahlawat's coat. Meet kisses Meet Ahlawat's hand. She struggles with her seat belt. Meet Ahlawat helps her. Masoom sees them and assumes they are kissing from her angle.
Episode ends.
Also See: