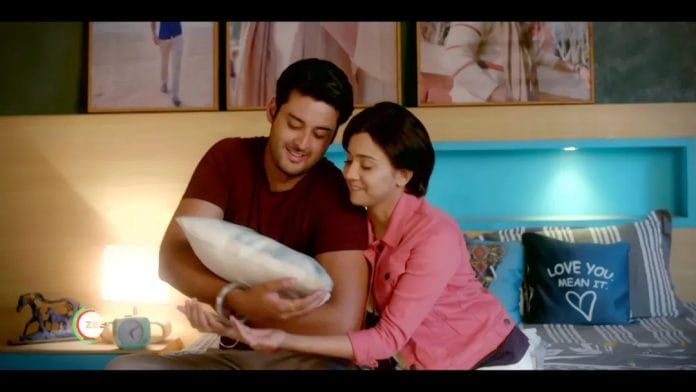 Meet 30th October 2022 Written Update On TellyExpress.com
The episode starts with Barfi requesting Laila not to use her wrong moves to get Meet Ahlawat, she should let her positive side Neelam put efforts to get him. Laila says she will give so much love to Meet Ahlawat that he will be bound to be with her. Meet Hooda tried to make her lose by celebrating karwachauth with him now she will take revenge of that. She will make sure he celebrates Diwali with Laila only. Barfi gets afraid thinking what if Laila makes Neelam do something which will cause trouble to her.
Neelam won't be able to make things right. Meet Ahlawat is in his room and Laila checks upon him, he gets a perfume smell and assumes it's Meet in his room. He says his love made her come to him finally. He looks for her and Laila turns the room switch off. He notices a showpiece and looks at it happily. Laila places a kiss on his cheek in darkness and he thinks it's given by Meet.
Laila disappears when the light comes back. Laila thinks he should once give her the chance to shower love then she will not let him miss Meet Hooda. Masoom flaunts her hair and Babita praises her shiny hair. Masoom talks about a moisturizer.
Ragini makes the preparations for naming ceremony and handles all the work alone. Raj and Babita come to her and ask her to take help of others. Ragini says she will manage. Babita says she can understand Ragini's situation and if she doesn't want to take part in the ceremony then they won't mind. Ragini says she has to be strong and she is trying to be that from today. She believes after Isha returns back and gets better everything will be alright. The baby here already has taken Isha's place. She hugs Babita. Meet gets ready and Meet Ahlawat gets romantic with her. He says the return kiss is pending which she gave him last night. He wants to kiss her now.
Meet gets confused and says she didn't give him any kiss. Meet Ahlawat gets out of control and he chases Meet to kiss her. She tries to run away and he kisses on her cheek all of a sudden. She tries to leave but then he falls onto bed with her by mistake while he was holding her hand. They share an eye lock and he tries to kiss on her lips and Meet calls Babita. He gets distracted and she gets up. He catches her and she says she has something important to talk. She says Neelam is hiding her pain and they should find the culprit who made her life miserable. Meet Ahlawat agrees with her.
Ragini lights Diya and it blows off. She gets a call and gets shocked to hear police station. She tells the person to not inform Ahlawats. She leaves in hurry and Ram wonders where did she go? During the ceremony Ahlawats take selfies with the baby and Ram calls Ragini but the latter doesn't pick up. Meet notices Neelam and tells Meet Ahlawat that they can't ignore Neelam's hidden pain, they have to do something about it. Raj says they all will suggest names for the baby and write them on chits, the best one will be selected. Ram says only Ragini knows when the priest will arrive so they have to wait for her. She is not back yet.
Episode ends
Also See: