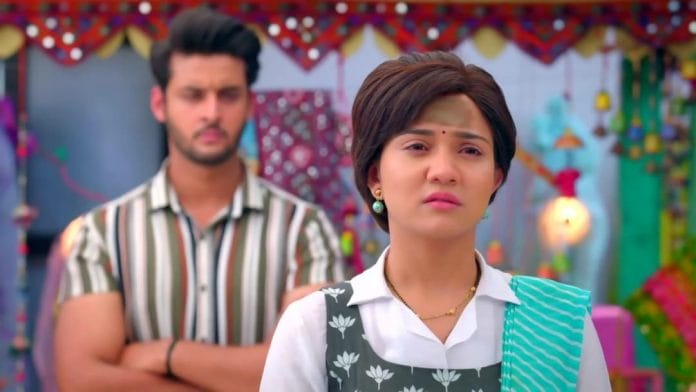 Meet 31st October 2022 Written Update On TellyExpress.com
The episode starts with Neelam getting scared and Meet tries to calm her down, Neelam gets restless and breaks down to tears. Ragini meets the inspector and asks him why he called her at police station. Inspector says a bar dancer took her name when they raid a party last night. Ragini is shocked to hear that. That bar dancer comes to meet her. Meet asks Neelam to tell about that incident when she was molested. Neelam hesitates to tell and gets afraid. Meet Ahlawat says Neelam can't share that horrific incident that easily. They should not force her to reveal anything. He tells her to relax and comforts her. He takes her to room. Meet thinks they need to make her trust them, else she won't be able to face her fear ever.
Hosiyar's friends talk to Hosiyar and tell him to go to bar to see Laila's dance. They praise Laila but Hosiyar scolds them saying he is not interested in all these. He tells them to leave when they insist him to have fun. Meet talks to Hosiyar about the dancer Laila. Hosiyar says he is bound to share room with those men but he never goes to bar. He requests Meet to not tell anything to Masoom. Meet learns about Laila's story how she was raped and then her family didn't support her so she became a bar dancer to earn money.
Meet Ahlawat makes Neelam lay in bed and says Meet won't force her again. He tries to take something from the other side of the bed and Neelam turns into Laila. She smiles looking at him closely. She thinks soon she will capture him fully. Barfi notices them. Meet thinks she will take Meet Ahlawat to the bar so that he can see Laila and learn her story. He will get an idea that a victim should never live a life like this but should stand up for herself. That profession is not right for her. That dancer threatens Ragini that she will tell the truth to Ahlawats today. Ragini gets nervous and says noone should know the truth of the relation between them. She will meet her later but now she has to leave. The dancer gets bail. Ragini gives her money but the dancer refuses to take anything. Ragini pleads her saying her family is celebrating after a long time so she can't upset them.
Ragini returns back home and makes excuse to Ram. Ahlawats get excited about whose name will be selected for the baby. Raj says the baby will pick up the chit. Baby picks Masoom's chit and Swetlana is written on it. Masoom gets delighted saying its her favourite vamp's name. Later Ishani writes a name on the plate which surprises everyone. Masoom asks her who is she? Ishani tells her name and says she is here because of Ragini. Ram asks Ragini does she know that girl? Ishani says she knows how to clear their confusion. She is about to reveal her identity but Ragini says daughter. Everyone looks at her.
Precap– Meet says she has a surprise for Meet Ahlawat and she takes him to the bar. Laila makes her entry by covering her face.
Also See: