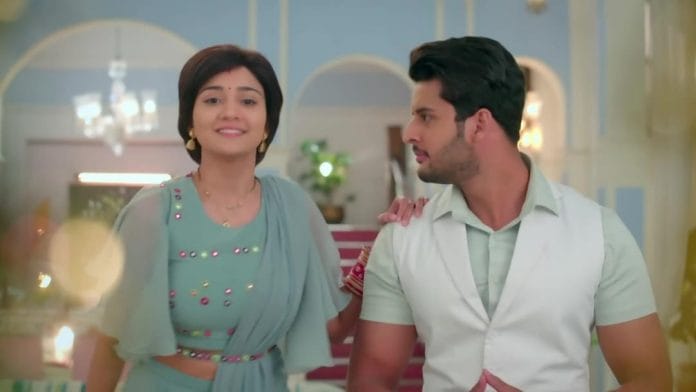 Meet 4th February 2022 Written Update on TellyExpress.com
The episode starts with Meet asking Anubha what she knows about Parth. Anubha says he is from Mumbai and I don't know much about him as Manushi didn't let us know but why you're asking about him. Meet thinks as I want to expose Manushi didi. Dadi thinks Manushi can never change her bad behaviour. Meet says she is planning to get Jewellery from him which he stole from Manushi and she asks her to tell some identification.
Anubha tells how he looks. Meet thinks it's tough to search in Mumbai. Sunaina on call asks Ravi to not contact her and she tells him that she threw the flowers on the dustbin which he sent for her and warns him to not call her. Masoom says it's good as you're handling 2 husbands in a good manner and you can go to your other husband when you feel bored of the current one. Sunaina slaps her for pointing her character and she warns her to remember her slap before she comes to her and leaves. Masoom thinks Sunaina has to pay the big value for this slap.
Manushi thinks she has to win the next challenge. Meet comes there and she sees Raj and Babita's photo and thinks to make their marriage life is beautiful like them. Babita says marriage is not about 7pheras and we have to work hard to make relationship works and she asks if they are ready for their next challenge. Manushi agrees. Babita asks them to finish it before Raj arrives. Meet asks Manushi to sit in the front seat of Meet Ahlawat's car. Manushi says she can do it easily and accepts the challenge then she challenges Meet to get a honeymoon special nightdress from Meet Ahlawat.
Meet gets shocked. Manushi says it must be a sexy dress and she gives her 48 hours. Meet asks won't she have the shame to talk in this way in front of Babita. Manushi says it's normal between couples and you guys are not a couple that's why you're tense. Meet gets teary eyed but she accepted the challenge.
Meet practices how to ask Meet Ahlawat about it when he is sleeping and she takes the help of Internet too and she thinks to asks him about honeymoon nightdress in singing style. Babita sees her then leaves to her room. Raj asks Babita to not take any stress of Meet Ahlwat as he has a good wife so focus on your fashion show and he gives her favourite hot chocolate to her.
Babita tells Mom always think about her kids happiness. Raj tells he knows it. Babita asks him to promise her that he won't get angry at her if she chooses maternal love over her wife's duties. Raj says he can never get angry at her and he asks her to not to take any stress.
Next day Meet can't sing in front Meet Ahlawat then she asks him to play the game with her. Meet Ahlawat asks which game. Meet asks him to play a dumb shell arts game. He agrees. Meet tries to sign him that she wants a honeymoon dress as a gift from him but he misunderstands her actions. Meet says he is dumb and leaves saying she doesn't want to play with him. Later she gets laughing gas balloons. Both of them smile because of it.
Meet asks him to understand her situation and tries to tell him indirectly that she wants honeymoon dress but Meet Ahlawat thinks she is having an upset stomach and asks if she is not feeling comfortable sleeping. Meet says she needs it. Meet Ahlawat says acidity is normal and why to feel shy to ask the medicine and he goes to get her medicines without listening to her. Meet thinks what she has to do.
Episode ends.
Also check: