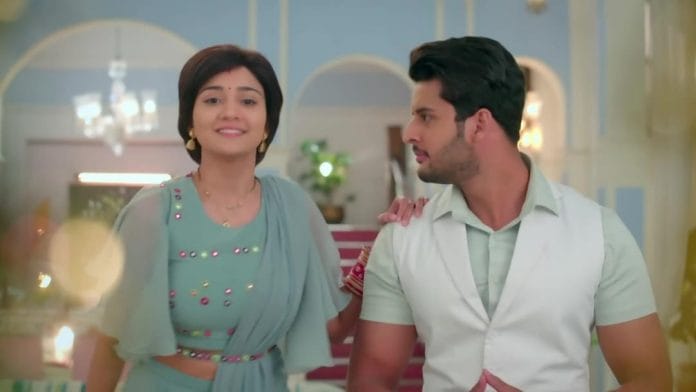 Meet 5th February 2022 Written Update on TellyExpress.com
The episode starts with Manushi asking Meet Ahlawat to drop her at the dry cleaning center as she couldn't book a cab due to a network issue. Meet Ahlawat agrees. Manushi thinks she is going to win the challenge and she is about to sit in the front seat but Meet Comes there. Manushi asks why she is coming. Meet Ahlawat tells I called her as she needs to take medicines then it's good to eat ice cream and he asks her to sit in the front seat. Meet sits in the front seat. Manushi tells them dry cleaners messaged her that they are sending clothes home and she leaves. Meet thinks about how to make Meet Ahlawat get her sexy dress. Sunaina asks her lawyer to print an article on paper that she is still Tej's wife and her marriage with Ravi was forced one last for a day and she asks her lawyer to send notice to Ahlawat family too. Sunaina tells Tej that it's needed to answer Masoom. Masoom hears it and thinks to change the notice according to her wish.
Meet Ahlawat tells Meet that she will be fine and he asks her to not eat oily food. Manushi comes there and tells him she placed boxes in his car and she asks him to drop her at boutique as it's important for the fashion show. Meet Ahlawat agrees. Manushi tells Meet that she is going to win her husband. Meet Ahlawat gets keys and asks Meet to come with them. Manushi tells there is no space in the car for her. Meet Ahlawat tells fine and they leaves. Manushi gets shocked noticing the front seat of car is Missing. Meet comes there and tells she sent seat for repair. It's shown how she removed seat by coming out of window and she asks Manushi to come in her bike as Meet Ahlawat will bring boxes. Manushi looks on and asks if she did it intentionally. Meet tells you did it intentionally by filling car dickey with empty boxes and you're cheater not me. Manushi reminds her that she is not allowed to reveal their challenge.
Raj sees Sunaina in tears and asks her what happened. Sunaina tells she will fight for her self respect. Raj tells he trust her and she will win it then he takes Tej with him telling he brought jilebis. Meet writes on paper what she wants but she throws them. Meet Ahlawat comes there and she takes those papers while he is busy on a call. Raj searches for his spectacles and Meet helps him and notices his spectacles are broken then she makes him order spectacles in lenskart.
Delivery boy tells Meet got parcel. Meet says he ordered it and collects it. Meet tells Manushi that Meet ordered a sexy dress for her. Manushi goes and takes the parcel and a sexy dress comes out from it. Everyone gets surprised. Meet recalls how she ordered a gift for herself and she asks the delivery boy to deliver her order first. Manushi leaves. Meet Ahlawat tries to tell he didn't order but she stops him. Isha and Ragini teases him. Meet tells him she ordered it. Meet Ahlawat says they are smiling and when you got changed. Meet asks won't he bear teasings for her. Meet Ahlawat agrees and asks why she ordered it. Meet tells she wants to wear it and takes the dress with her. Meet Ahlawat gets shocked. Manushi stops Meet and says you may did something that's why he looks shocked and you might win with cheat. Meet tells I can use saam daan Dand bedh and you can never get my husband and she leaves to room and throws dress from the window which falls on Meet Ahlawat face and he thinks why she ordered when she doesn't want to wear it.
Episode ends.
Also check: