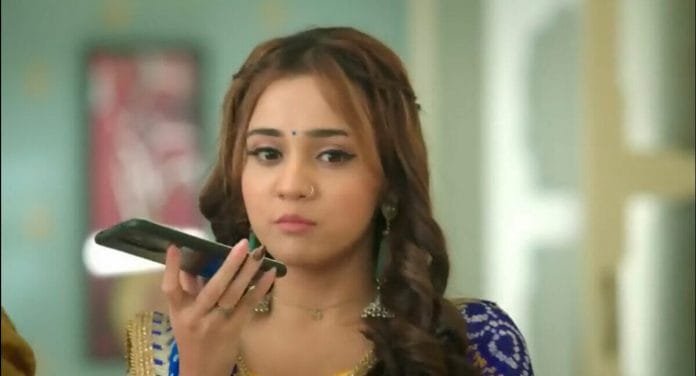 Meet 8th August 2022 Written Update On TellyExpress.com
The episode starts with Isha performing the Vidaai ritual. She loses her balance and Meet Ahlawat lifts her up. He takes her to the car and everyone gets emotional. Raj blesses Isha that she will stay happily with Deep. Ragini asks Deep that Barfi left the mansion in anger so she might not accept Isha. Deep says Barfi will accept Isha with time and she will understand his happiness lies in Isha. He thanks Ragini for believing in him and for giving Isha's responsibility to him despite all these drama. Isha hugs her family members and leaves crying.
Manushi is about to leave and Meet stops her saying she handled the situation well and Ahlawats are now loving her and are impressed by her act. Meet Ahlawat is so happy that he can marry Manjari right now. She asks Manushi to not cancel the deal. Manushi agrees with her saying she will give her the kid tomorrow at 4 pm. Meet gets delighted to know that and she enquires about the kid like from where does the kid belong, about the paperwork etc. Manushi says Meet doesn't have to bring anything but she will directly get the kid without any formalities.
Meet asks her but how's that possible. Manushi says her one relative gave birth to that child but she is no more thus her kid will be given to Popat. Meet asks whether the kid is boy or girl. Manushi says it's a boy Meet becomes hopeful it must be her son. She asks Manushi about finalizing the deal. Meet Ahlawat spots them together and wonders what deal they are talking about. Manushi says done and leaves in hurry. Meet thanks God as she is finally getting her child back. She can live with her family happily after that. At night Meet is unable to sleep. She turns on the bed switch and turns it off. She wakes up and watches news in her phone where a girl is missing and her father is searching for her. Meet prays that the father should get his daughter back soon as she can understand how does it feel to live without your child.
Meet cant wait to get her son back and she checks the time repeatedly and says still twelve hours are left for her to see her child. Meet Ahlawat drinks alcohol and says what is Manjari's real intentions? Why she was talking to Manushi? He thinks the deal can be between Meet and Manushi but they are enemies. This can't be possible. What does Meet want from his family? There must be a reason. He drops the glass and falters. Meet hears the sound and comes out to check. She gives support to Meet Ahlawat and tells him to quit alcohol for his family atleast. He replies that she left a video clip for him and she said she will never come back to him again for his one mistake. She will never forgive him. But after losing their child they should have given each other emotional support as they needed it the most. He asks Meet why she left him like that? She could have stopped talking to him but she should have been there for him. He says when noone was there for him alcohol gave him that peace. It didn't leave his side.
Meet says she can feel his pain but he should not torture himself. He says she should also stop lying to him then he will quit alcohol too. She is about to leave but he holds her hand and asks her to admit that she is Meet Hooda. When he first saw her he recognised her immediately. So now she should reveal that she is Meet and why she came here? Meet thinks he deserves to know the truth so she is about to tell him everything but then she gets Manushi's text. She thinks if he does anything wrong after learning the truth then her efforts will go to waste. She should wait for some time to get her son back then she will tell him the truth. She tells him that she is Manjari only whom he brought home for Raj's recovery, he can't forget that. She leaves and thinks after tomorrow Meet Ahlawat will get his love back.
Episode ends
Also See: