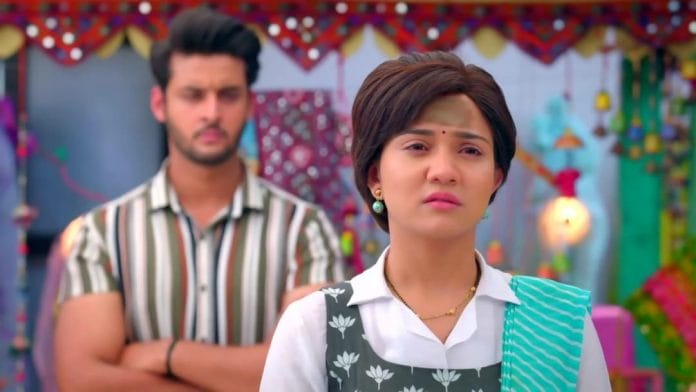 Meet 8th November 2022 Written Update On TellyExpress.com
The episode starts with Meet coming to Neelam's room. Barfi opens the door for Meet. Meet says to Barfi that she brought food for Neelam and also to look at how is Neelam. Barfi stops Meet from getting close to Neelam saying Neelam has got eye infection. Meet tries to go to Neelam but Barfi stops Meet and takes Babita's name and says what will Babita think about her behavior. Meet gets suspicious of Barfi and Neelam's behaviour. Meet leaves from there. The current suddenly goes off in Neelam's room. Neelam says she can't see anything with these spectacles. Barfi says she will make an arrangement and gives a candle to Neelam. Neelam takes off the spectacles and takes the candle. Meet sees that Neelam doesn't have any eye infection.
Ragini recalls what happened. Babita says she can't imagine that she would cheat on Ram after their marriage and asks Ragini if this child is before the marriage. Ragini says yes. Raj and Ram also talk about this matter. Raj says to Ram everyone has some past. Babita says to Ragini she shouldn't have told the truth even if Ram asked her and says now she put her own marriage in jeopardy. Ragini doesn't answer Babita's question.
Meet says to Meet Ahlawat that her suspicion is right and says Neelam doesn't have any eye infection and says Neelam is the one who locked her up. Meet Ahlawat raises his suspicion saying to Meet how can it be Neelam who locked her up and danced with him. Meet Ahlawat says he saw her body language and says she is confident and bold. Meet Ahlawat also reminds Meet that there is no proof to say that it is Neelam. Meet sees chumkees on Meet Ahlawat's hands and says her suspicion is right. Meet shows Meet Ahlawat the chumkees on his hand and says he must have gotten on himself when he is dancing with her. Meet says she also saw the same chumkees in Neelam's hand. Meet Ahlawat gets shocked hearing this.
Ram says to Raj that he can't stay under the same roof with his wife's daughter. He says whenever he sees Ishani it will remind him that Ragini had a relationship with someone like the relationship he has with Ragini. Ram says everything is destroyed and leaves from there.
Meet Ahlawat says to Meet that he can't believe that Neelam will do this. Meet Ahlawat says he has to talk to Neelam about it. Meet stops Meet Ahlawat and says if it is Neelam then she is very sharp and says we have to catch Neelam red handed. Meet Ahlawat agrees.
Barfi asks Neelam who gave her these ornaments. Neelam says Babita gave them for her to wear on Diwali. Barfi says to Neelam that Babita accepted her completely as daughter in law. Neelam says these ornaments rightfully belong to Meet. Barfi asks Neelam to not think about Meet and think about herself. Neelam doesn't listen to Barfi and goes to give these ornaments to Meet. Barfi comments on Neelam's behaviour.
Meet gives an idea to Meet Ahlawat to trap Neelam saying we will invite her to a place today at 2 am. Meet Ahlawat says she is not a child and says she will know it is a trap. Meet reminds Meet Ahlawat about her behaviour and says she is obsessed with Meet Ahlawat and says she will come. Meet Ahlawat messages Laila just as their plan. Barfi sees that Laila got a message from Meet Ahlawat asking her to meet today at 2 am near their office godown. Barfi understands that Laila went to meet Meet Ahlawat. Barfi decides to delete the message but Laila comes into the room. Laila asks Barfi what is she doing? Barfi hides the phone from Laila and makes up a reason saying she is cleaning the cupboard. Barfi deletes the message and puts the phone in Laila's bag saying she has to be careful with where she puts the phone. Barfi leaves from there.
Barfi thanks Babita for allowing Neelam to celebrate Diwali here. Barfi asks Babita what will people think when the guests come and see Meet here. Barfi asks Babita to figure out a way to send Meet away from here on Diwali and says only she can do it. Babita says she will think of something.
Babita comes to Meet. Babita says to Meet that they decided before to do pooja near Benaras Ganga ghat and says actually Raj should go to this pooja but after what happened with Ram and Ragini he has to stay here. Babita requests Meet to go to Benaras on behalf of her and asks Meet to do the pooja. Babita gives the flight tickets to Meet. Meet Ahlawat says to Babita that Meet is not going anywhere and says she has work here. Meet says she will go and says to them she will go and pack her bags.
Meet Ahlawat says he will message to Neelam that he is busy and asks her not to come. Meet says to Meet Ahlawat if she is not here then it will be the best time for Neelam to come and says then we will catch her. Meet says she is going to Dadi's house and says she will come to Godown at night.
Episode ends.
Also See: