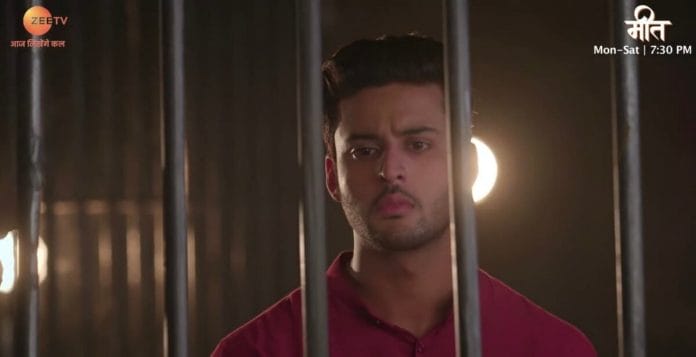 Meet Spoilers, Upcoming Story, Latest Gossip , Future Story, Latest News and Upcoming Twist on tellyexpress.com

Zee TV new show Meet starrer Ashi Singh and Shagun Pandey has come up with a fresh concept.
As reported earlier it's shown police arreted Meet Ahlwat in drugs case and Babita denied to have anything until her son returned to home than Meet went to police station and took blame on herself than police released Meet Ahlwat by arresting her. Raj asked Meet to leave to home and Meet contacted his Mom than she had her tablets after eating apple. Raj questioned Meet why she took blame on herself without knowing which case she is trapped into. Meet told him that she can do anything for family.

Raj insisted her to change her statement and requested her to not sign any document, Meet Ahlawat to returned to station and he asked Meet to not accept it. Inspector released Meet after knowing she is daughter of their mentor ashok hooda so they believed that she can never involve in wrong work. Masoom made Babita against Meet by telling her that her family was involved in smuggling.
Raj returned to home with kids than Babita and Masoom asked Meet to leave from their place and Masoom mocked Meet family than Meet proved her innocence by opening the gifted packet of her Mom which had devi maa idol. Meet Ahlawat took stand for Meet infront of his family members.
In the upcoming episode viewers gonna witness that Meet and Meet Ahlawat' will share the bed and both of them fights with eachother like Tom and Jerry. Otherside Ragini and Sunaina will discuss when Meet will accept the Meet. Masoom tells them that it won't happen. Evetuont spies outside the room of Meet Ahlwat and he suddenly opens the door which makes them fell inside and new girl fell on Meet Ahlawat and Meet looks on seeing them.
Will Meet realises he fell in love with Meet voice? Who's new girl?
All these questions will be answered in the upcoming episodes.
To know what will happen next in your favorite show, keepchecking this space for new and exclusive updates.