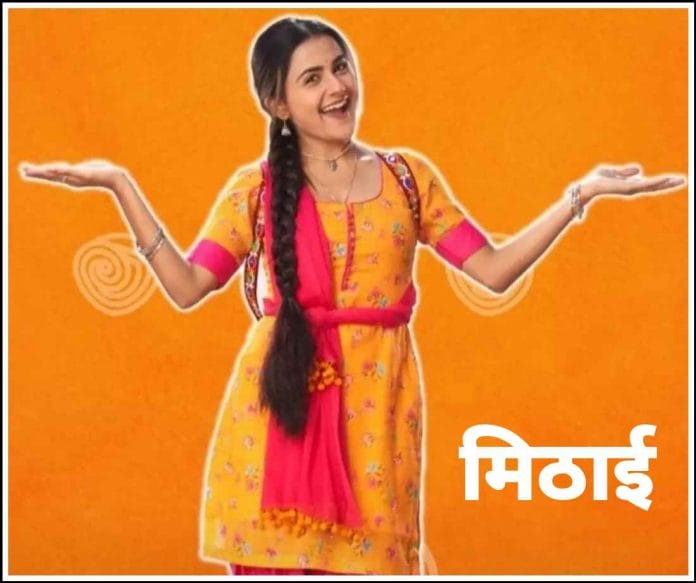 Mithai 11th May 2022 Written Update on TellyExpress.com
The episode starts with Harimohan getting dizzy. Mithai and Sid are worried about him. Mithai thinks it is because of lung cancer. Sid says he knows because of stress his BP is high. Sid gives him medicine and asks him to stop the business. Mithai gives him a lecture on stress and how business is better than a job. Sid takes Harimohan and says if he hears her nonsense his stress levels will be high. Deepthi says to Apeksha that Gireesh favors her marriage with Sid. Apeksha says Sid does not even call him Dad. Deepti advices that first she has to become a bridge between Sid and Gireesh. By doing this even Sid's family will be impressed. Then Chobe family will accept her as daughter in law. Apeksha praises her mom for this idea and says she can manage Sid and she has taken a promise from Sid that he will not marry anyone else.
Shubham talks with one of their vendors about sweets. The vendor only gives 10 kg of laddoo. He says he gave what he can. Shubham takes it and leaves. The vendor calls and talks with Agarwal. Keerti and Mithai are shown to be making Aloo jelabi. Gireesh sees that and asks Keerti to stop wasting her time if she made 60 kg it is big. Pramod calls and talks with Mr. Agarwal and says everything is going according to the plan. Agarwal if there is a hidden arrow. Pramod says there is nothing like that and to make the commission envelope large and he will give information from time to time.
Sid sees that Indu is worried. Sid asks about it. Indu says she is worried about Mithai. Mithai has taken big responsibility. Sid says she made a big promise beyond her ability. Sid says Mom used to tell me during my exams that Gopal Ji will set everything. Indu says true, you remember everything about Aarti and she used to make delicious sweets. Indu recalls her old moments with Aarti and says Aarti used to learn sweets from your Dadu and she used to feed you after offering to Gopal Ji and she did so much for this sweets business. Sid says she didn't take care of herself while caring fir others. Indu asks why he stopped eating sweets as they are his favorite. Sid says sweets are not good for health. He leaves.
Keerti asks Mithai what if they can't prepare enough sweets. Mithai says they can do it with Gopal Ji's help and my Dad used to say we have to concentrate on our work. Karishma comes there to help them. She posts selfies that she is helping Mithai. Keerti says there is a major difference between you and Sid. You feel happy recalling your Dad but Sid Bhai feels sad recalling our mom. Mithai says they need to feel happy. She prepares sweets for the whole night.
The next day, Girish gets the call. He informs family members that their sweets truck met with an accident. Abhishek asks him to not worry telling Shubham arranged sweets in the whole night. Girish positively looks at him. Shubham feels happy. Mr. Agarwal comes there with his son and offers to help them by giving them one of their shop sweets. Girish refuses to take his help telling his family is with him in the tough times. Shubham feels happy thinking Girish considered him as family. Mr. Agarwal leaves with his son. Abhishek asks Shubham about his ordered sweets. Shubham says they are on the way and we need to send them to shops after checking the taste as it's the first time we are taking sweets from outsiders. Mithai packs her Aloo jalebi and goes to place Bhogh to Gopal Ji. Shubh tells Dadaji that tempo has arrived. Mithai offers Bhogh to Gopal Ji and prays him to save Dadi's reputation. Shubham asks Dadaji to check the sweets. Dadu tells they are spoiled ones with the smell. Girish tastes it. Pramod recalls how Aditya send the spoiled sweets.
Episode ends.
Also See:]