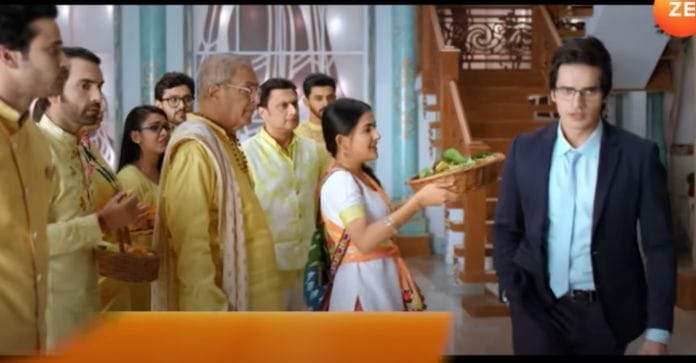 Mithai 12th May 2022 Written Update on TellyExpress.com
The episode starts with Shubham giving Dadu the Sweets. Harimohan sees this and says they are stale sweets we cannot put them in our store. Girish sees the stale sweets and asks Shubham is this what you have done. We do not keep our stale sweets and we should sell other people, stale sweets, in our shops. Girish starts scolding him.
. Mithai says to Girish in the market there will be good people and bad people and if someone gave a promise and betrayed him what is his fault in it. I made 125 kg Aloo jalebi if you want I can make more. Gireesh asks now we have to take her help. Mithai says this is everybody's how can it he only hers. Harimohan asks if they forgot and points out the main point and says we need sweets to open all our branch shops.
Chandrakantha also explains to put his pride aside and think how to solve the problem. Girish agrees and scolds Shubham that Mithai is better than him and because of him he needs to take the kindness of Mithai. Pramod comes to Shubham and consoles him.
Shubham thinks of what Girish said to himself and thinks no matter how much hard he works there is no word of encouragement. Now the new girl comes and everybody is praising her. Harimohan comes to Shubham and asks him to not take Girish's words to heart. He says Mithai proved that she will become a good wife and good vendor and in the future, she will become your strength whenever needed and she will fight for you so don't feel bad. Harimohan leaves. Shubham says because of this girl my value in this house will be nothing and even if I try to do something on my own then everyone will say that I'm doing it because of Mithai.
Mithai thinks it's correct that they won't get tired in work. She notices Harimohan sitting on steps and falls unconscious. Mithai and others surround him. Dadi asks Keerti to call the Doctor. They take him to a room. Keerti calls Doctor. Later Sourya tells Dadi that Doctor advised them to keep Dadu away from stress otherwise he may get a stroke. Everyone feels sad. Mithai recalls Dadu has cancer.
Chandrakantha asks everyone to leave. Everyone leaves. Indu prays Gopal Ji for Harimohan's wellbeing. Mithai goes to Pooja mandir and tells Gopal Ji that Dadi took a promise from me to not reveal to anyone that he has cancer and she prays to show her the right way. Other Youngsters pray to Gopal ji with Mithai for Dadu's health.
Harimohan gains consciousness. Girish asks him why he is taking tension when everything is fine and they have record sales on Ekadasi day. Dadu says everything is fine because of Mithai. Mithai comes to his room and feels happy seeing Dadu is fine and she goes to thank Gopal Ji.
Girish asks why he is giving credit to her who can't know the seriousness of the situation. Dadu says she is pure. Girish says he is taking her on his head. Harimohan says this strike proves today that sweet making skill is needed to run this business so one of the family members needs to know it as Hari Mohan sweets is Heritage, not business so understand it. Everyone looks on.
Episode ends.
Also See: