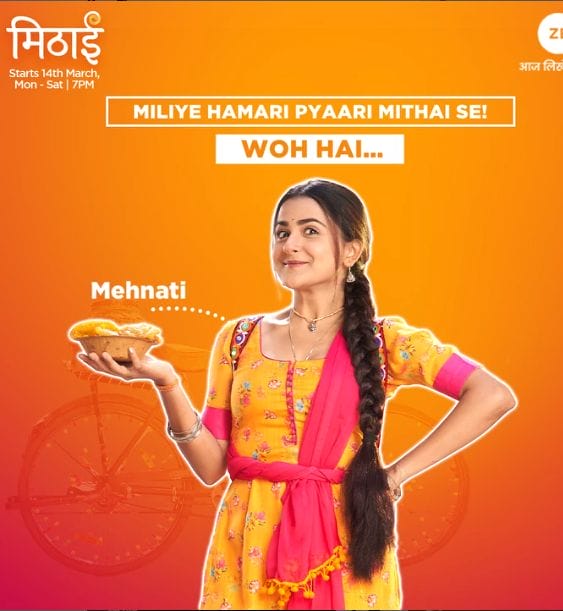 Mithai 14th September 2022 Written Update on TellyExpress.com
The episode starts with Mithai is shown to be doing Pooja for Lord Gopal ji. Mithai sings a Bhakti song of Gopal ji. Harimohan is also with Mithai. Harimohan talks about Sid with Mithai. Mithai says Sid made a mistake by hearing Apeksha advice and leaving the job. Mithai says to Harimohan if Sid gets his job then he will get back his confidence. Mithai says she knows Sharma ji and she can recommend him to Sharma jis boss. Harimohan reminds Mithai of Sid's ego. Mithai says we must make sure Sid doesn't know that he got the job because of her recommendation.
Mithai comes to meet Sharma's boss. They talk about sweets. He asks Mithai why did she come here. Mithai says she came here to asks for a chance for her husband as because of family matters he had to leave his job. Sharmaji's boss says he will give him a chance. Mithai thanks him for that.
Harimohan, Girish and Abhishek talk about business. Sid comes to share the good news to everyone that he got a job. Harimohan thinks of what Mithai said.Sid apologises to Dadu for his behaviour yesterday. Dadu asks him to control his ego than he will go a long way. Abha asks to make up with Mithai. Harimohan teases Sid. Sid goes to make up with Mithai. Pramod thinks of how did Sid got the job. Sid shares the good news with Mithai. Sid apologises to Mithai for his previous behavior. He tells I love you and thank you. He tries to kiss her but Mithai escapes. Shubham on call learns some information. He tells Pramod that Mithai went to meet Gupta for Sid. Pramod says good and let's attack Sid's self-respect with this point which will break him. Shubham says Sid may go into a depression so he can't do it. Pramod says Mithai will occupy your position in the company and it's your fate which I can't change. Shubham stops him and agrees to do as he said.
The next day, Mithai prepares a Carriage for Sid along with a message for him. She makes Sid eat sweet curd. Sid takes everyone's blessings. He is about to leave when he receives a call from an unknown number saying thank your wife before leaving for the job, as you got this job with your wife's recommendation. Sid looks on. It's shown that Shubham is the one who talked to Sid changing his voice. Pramod tells Shubham that he did well. Shubham thinks sorry Sid but your life is already set and I need to acquire my position in business too until when I need to work as a servant.
Mithai asks Sid if he forgot anything. Hari Mohan asks Sid to go to the office early. Sid asks how much she loves him and his self respect. Mithai says she loves him and his self respect. Sid asks Mithai to swear on him and asks if she recommended to make him get the job. Mithai says I talked to them but. Sid thanks her making him feel low again. He calls Gupta and refuses to accept the offer. Mithai tries to tell Sid that he is taking it from the wrong angle and asks him to use the opportunity. Sid says he can't accept this offer which he got through her recommendation. Harimohan and others tell Sid that his anger is wrong and Mithai did to help you. Sid says it's an insult.
Pramod calls a goon and says to him to destroy Gosai Mithai bandhar. Shubham tries to stop him. Pramod doesn't listen to him.
Sid asks Dadu if he ever got anything with a recommendation. Dadu is not able to answer his question. The family members tries to convince Sid. But he doesn't listen to anyone and says what she did is like a slap on his face and he will never forget it.
Episode ends.
Also See