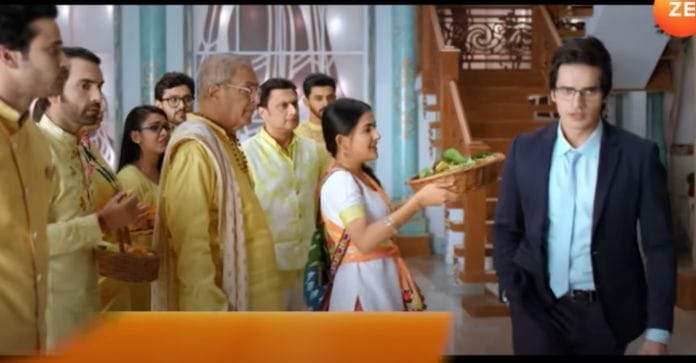 Mithai 16th September 2022 Written Update on TellyExpress.com
The episode starts with Mithai putting her hand on diya infront of Ganesh Ji. The doctor says Sid didn't get conscious till now. After a while, if he still doesn't get consciousness then they will do a CT scan. Sid might have gone into coma by then. The nurse comes and says Sid is conscious. Harimohan goes to get Mithai. Harimohan sees Mithai and says Sid is conscious. Hari Mohan scolds her and takes her to see Sid.
Sid wakes up and says to the doctor that he is having a big headache. Doctor says he will feel like that for a few days. All the Chobe family come to see Sid. Sid talks to Dadu and he says he is feeling a really bad headache. Mithai asks Sid how he is. Sid gets angry at her as she interrupted when he is talking to Dadu. Sid scolds Mithai. Sid sees Mangalsutra on Mithai. Sid asks Mithai who married her. All the family is surprised Sid is asking this question. Mithai says to Sid that he is her husband. Sid gets angry hearing this and asks if this is a new drama of hers? Dadu asks to make Mithai leave the room. Harimohan asks Shubham to call the doctor. Dadu asks Mithai to stay outside. The doctor comes and Dadu asks the doctor what happened to Sid as he is not able to recognize his own wife. Doctor says to Dadu he will check and tell them what happened. Doctor gives Sid anesthesia.
Mithai asks Harimohan what happened. Harimohan says to Mithai to first calm down. The doctor comes out and says to the family that Sid has partial amnesia as he was hurt in the head. The doctor also says they should not make him recall anything forcefully. The doctor says he forgot a small part of what happened in his life that's why he couldn't remember anything about Mithai.
Harimohan and his family bring Sid to Chobey mansion. Chandrakanta and Abha welcome him. Mithai in her old attire comes there with tea. Sid says you acted in the hospital like a wife and here you're acting normal. He asks family members to make Mithai leave their house. Mithai says Dadu gave one room to her for rent so she won't vacate. Hari Mohan and others take Sid to his room. Chandrakanta and Abha ask why she did it. Abha says you are married to Sid and no one can erase it. Mithai says she has to erase it for Sid's safety. Chandrakanta asks where is her mangalsutra. Mithai shows them it's at Gopal Ji's idol. Chandrakanta and Abha say it's inauspicious to remove the nuptial chain. Mithai says I placed it near Gopal Ji and he will protect it. She says Gopal Ji is my partner and he will make Sid recall his past. Abha says I will tell everyone to not force Sid to recall his past.
Shubham blames Pramod for Sid losing memory. Pramod says Mithai can't handle international orders like you and now she is alone and you can win over her. Shubham looks on. Hari Mohan tells Sid that Gopal Ji will keep him away from problems. Sid sees Mithai entering his room. He asks her to leave saying no one has entry to his room except Dadu. Mithai says she came to apologize to him for her mistakes. Hari Mohan asks Sid to forgive her. Sid forgives her. Mithai says she will bring him food so he can take tablets. Sid says he won't eat food prepared by her. Hari Mohan asks him to try once. Mithai leaves at high speed. Sid says she is nonsense.
Episode ends.
Also See: