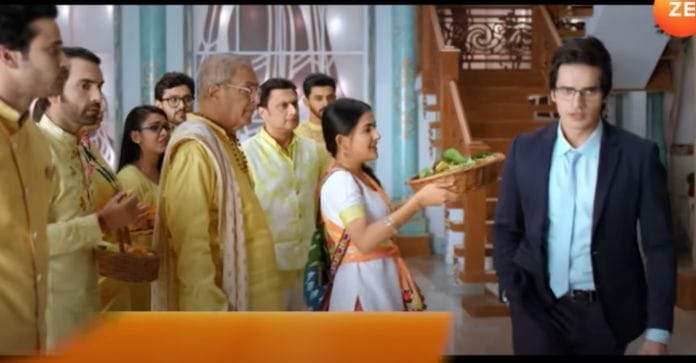 Mithai 17th May 2022 Written Update on TellyExpress.com
The episode starts with Gireesh saying the wedding card that Karishma has chosen is rs 3000 and with Hamper is rs 3000 and the total is rs 6000. Is it right to spend this much on cards to Abhishek and Abha. Abha says this is Karishma's wedding and we couldn't even fulfill her small wish and I'd this is Keerti will you also count how much you spend. In some worker's marriage, Harimohan spent a lot. If this is it them our value in this house is lower than workers. Harimohan and Chandrakantha hear what she says.
Shubham and Sid go to the worker neighbor's house. The wife says he is not at home. Mithai asks for water. When Mithai sits down she sees the guy under the bed and tries to signal them but Shubham and Sid think she is mad. The guy thinks this is the best chance to escape and takes it. Mithai signals that he is running away. The guy gets caught. After getting a beating he says he says the guy from Jathirpura said to do this and he got rs 20000 for this and he will still get rs 10000. Sid and Shubham start to go to Jathirpura and Mithai also convince to go with them.
Abha starts talking about the card to Harimohan and Chandrakantha. Harimohan says he agrees with Gireesh on this one. Abha asks her in laws can't they do it for Karishma's happiness. Harimohan and his wife advise her to not waste money on wedding cards and it's good if we spend that money on welcoming guests and wedding preparations. Harimohan tells her he will spend the same amount on both marriages. He asks Girish to take responsibility for wedding arrangements. Everyone leaves. Abhishek feels hurt. Abha tells her husband that his brother will decide what they have to wear at the wedding and they don't have any value and your value in this house is less than workers. Pramod calls Mr. Agarwal and tells him that they may get caught so make sure that my name won't get exposed. Mr. Agarwal asks him to not worry telling he has backup plans.
Mithai recalls her moments in Jaldipura. She asks Sid and Shubham to hide to catch the culprit. They hide. One person comes there on the bike. Shubham says he is our worker. Sid and Shubham try to catch him but he escapes from there on his bike. Shubham and Sod follow him. Harimohan calls Mithai and asks when she returns as her mom is worried for her. Mithai tells she is helping to catch the culprit and informs that Harimohan sweet labour is also involved in this conspiracy. Harimohan gets shocked and sends her to find the complete truth. Pramod hears their convo and informs Mr. Agarwal about it and he asks him to make their names won't get come out. Biker escapes from narrow way. Sid scolds Mithai for not telling them that car won't move in this way. Mithai tells him a way. They catch the worker and ask who is behind the conspiracy. The worker reveals Bhoora name.
Episode ends.
Also See: