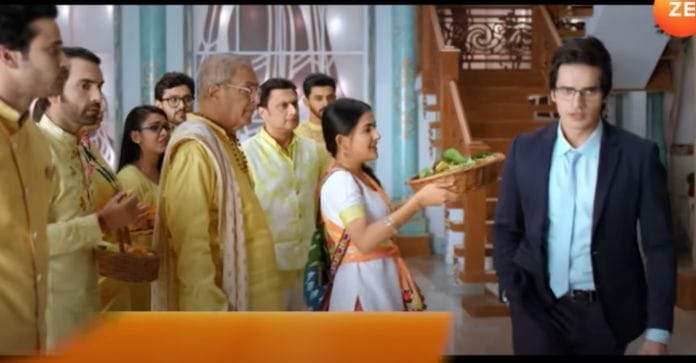 Mithai 1st June 2022 Written Update on TellyExpress.com
The episode starts with Sid announcing that he will take responsibility for Indu and Mithai. Abhishek says if you will take their responsibility I have no problem with them staying here. Chandrakantha says her opinion to Harimohan he just laughs and doesn't say anything. Chandrakantha asks about it and he says this is the first time Sid has taken responsibility for family problems and prays to God. Indu and Mithai come into the room. Indu says to Mithai about how much Sid has helped her. Mithai says she will say thank you to Sid and come.
Gireesh comes to Sid's room and asks why does he stand against every decision he takes. Sid asks Gireesh what is his problem and asks if he has gone against him or is that or if they are staying is that it. Gireesh points out he is going to Singapore. He says he will fulfill his promise. Mithai hears their argument. Keerti gets a call from Rohan she cuts the call. Karishma comes to talk to Keerti she says she doesn't want to spoil their relationship and she is going to leave America after marriage. Mithai comes and calls Sid by his name without any nicknames. Sid gets surprised and says to come again. Mithai says she understood him now and says thank you to him. Sid asks her not to create any trouble in the house. Mithai says now she will be like a shadow in the house. Mithai asks Sid why is he helping her mom this much. He doesn't answer and says he is busy.
Mithai comes out of Sid's room. Shubham meets her and tells he gets to know about her Mom's condition and doesn't know why Sid hid it. Mithai thinks she knows it. Shubham promises her that he will support her in her tough times and asks her to not worry about her Mom's treatment. Mithai nods yes. Shubham meets Sid and thanks him for taking care of Mithai and Indu aunty. If I know it before I may help you and you no need to worry about Mithai and Indu aunty as they are my responsibility and you can leave for Singapore without any tension. Sid asks Shubham to take care of marriage arrangements and business as I will take care of Indu aunty's treatment. Shubham agrees. Mithai overhears their conversation.
Sid takes his mother photo and tells her that he feels her presence when Indu aunty is near him and that's why I dint want to give her responsibility to anyone and I hope Indu aunty gets better before I leave to Singapore. Keerti attends the call of Rohan and questions why he is calling her repeatedly when she doesn't want to talk to him. Rohan requests her to meet him once. He disconnects the call before she tells him something.
Mithai meets Harimohan and tells her how she misunderstood that he is suffering from cancer. She says you have to live 100 years and sorry for the misunderstanding. Harimohan says you're correct as I have cancer in my heart which is spreading. Mithai says she is not understanding. Harimohan tells he will show her. He takes her out and makes her see how Abhishek and Gireesh argue over money matters in the wedding arrangements. He then shows how Abha is lost in her world and Sid doesn't involve himself with the family and now he is leaving for Singapore. Harimohan asks God there is no wish for him to live anymore and asks God to take him away. Mithai asks what is he asking. Mithai says to not lose his hope. He says Sid will go to Singapore. Mithai says she has seen today that he also feels sad seeing that the house is breaking and that's the reason he is going to Singapore. Harimohan gives her the responsibility of stopping Sid from going to Singapore. Mithai also takes responsibility and says she will do everything and promises on God.
Episode ends.
Also See: