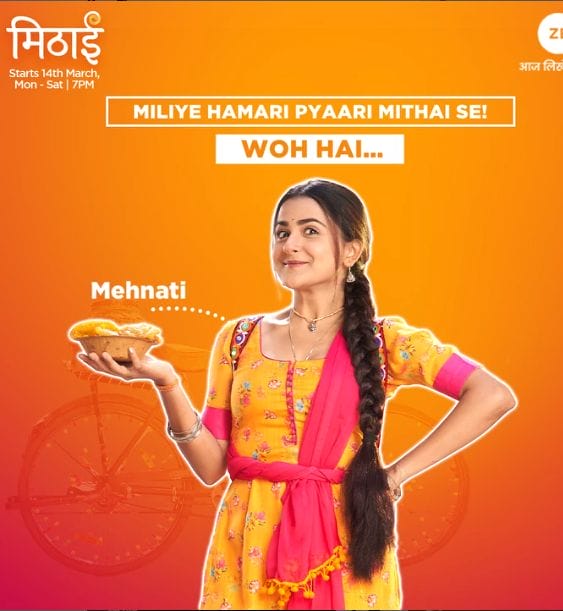 Mithai 21st September 2022 Written Update on TellyExpress.com
The episode starts with Geetika turning on the camera to take a video but she keeps her mobile on the table vase hearing a knocking sound. Pramod and Shubham enter inside. Geetika goes to bring tea. Shubham says to Pramod hopes our drama won't get exposed. Pramod says we won't get exposed as Sid loses his memory and he will make us enter the house as he didn't trust Mithai. They are unaware that their conversation is getting recorded. Geetika gives them tea. Mithai tells Sid that she wants to tell him something. Sid shows Mithai graph of how HM sweets lost their 50% share in the market and your business is increased this time and you may get enough money to release your father's shop then why you're waiting? Return our shop to us and go to your Dad's shop. Mithai asks why he is talking in this way. She came to share with him that her dream is got fulfilled as she got papers and the key to her dad's shop.
Sid asks her to stop her sweet talks. He asks what is your motive, you want HM sweets that's why you made Shubham out of this house. because you know Dadu blindly trusts you, you are the reason my brother is out, now you will also be out and he takes her. Dadu stops him and says what is wrong with you. Sid says, try to see the truth, Mithai planned an attack against me not Shubham and Pramod. Girish says Pramod did it. Sid says no and she doesn't have proof but I have proof. He shows them a graph report of both shops and accuses her. He warns others to not stop him and he throws her out. Geetika holds her. Family members ask Sid why can't he understand that Mithai is his wife.
Geetika brings Mithai inside. Sid is about to throw her again. Geetika stops him and tells Sid that she came to reveal the truth to him and Pramod and Shubham are using your state. She shows him the video recorded on her phone. Everyone gets shocked. Abha says Pramod is using Sid's state. Hari Mohan asks Sid to apologize to Mithai. Sid is about to apologize but he feels pain in his head. Mithai asks others to not make him feel tense. Sid tells Mithai that he needs some space and goes to his room.
Girish and his family go to Pramod's house. Girish says we thought to forgive you guys if you change but there is no hope and from here onwards there is no relationship between us. Abhishek warns Shubham and Pramod to not instigate Sid against Mithai again.
Mithai goes to Sid's room with food. Sid says I will eat later. Mithai asks him to take tablets after eating food. Sid asks how can she act as if nothing happened. Mithai says I just want your happiness and I won't pressurize you to remember the past. She tries to feed him. He says I will eat. Mithai is about to leave. Sid stops her. Pramod makes Shubham drink alcohol and instigates him against Mithai and his family. Shubham says tomorrow I will throw everyone out by making everything on my name. He burns a family photo. Pramod smirks. Sid apologises to Mithai and tells her that he is unable to accept her as his wife as he is not remembering her. Mithai says I won't force you. Sid says leave somewhere for some days as I'm feeling guilty seeing you so stay away as I don't know how I will react if you stay near me. Mithai says I will go away for your happiness. She packs her luggage in tears recalling her moments with Sid.
Episode ends.
Also See: