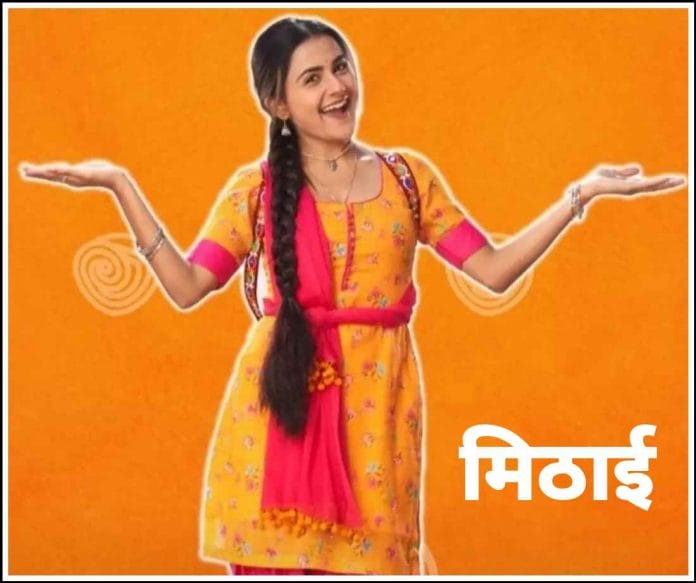 Mithai 25th May 2022 Written Update on TellyExpress.com
The episode starts with Bhoora putting Mithai and Sid at Gunpoint. Mithai tries to stand infront of Sid but he does not listen and tells her to stand aside. They start arguing. Bhoora says to shut up and fires in the air. Bhoora says the next bullet is for this Chobe boy. Mithai asks if he is mad. Bhoora says he is mad from the beginning ib her love. The pandit tries to run away. But Bhoora points a gun at him. Sid thinks of this as a chance and throws a Kalash at Bhoora. Sid and Mithai run away from there. Bhoora and his Goons run away from there. Bhoora starts running behind and firing at them.
Sid says to Mithai he never thought he will run away from a gunda who is shooting at him. He blames Mithai for it. Mithai says who was the one that started the Lanka kand. Mithai says you beat him up badly and that's the reason he is shooting at us. Bhoora shouts at them and they start running again. Bhoora asks for them to stop but they don't and he shoots at them. After firing a few times he will be out of bullets. He will complain about it to Paras. Paras points out that Mithai and Sid don't know about it. Mithai and Sid hide from Bhoora and his Goons.
Bhoora shouts to leave Sid's hand and to take his hand. Bhoora tries to find them. Sid and Mithai go out from behind the tree. Indu goes to Lord Gopal Ji and complains that he made all the arrangements for her to come but how can she without setting a future for Mithai and prays to God about Mithai. Mithai says from childhood she is first in running. Sid asks then why didn't she accept the childhood love as they will be less problems for everyone. Mithai says Bhoora is only a creditor and the childhood love is Sid's. Sid says he doesn't believe in love. Mithai points out he only talks with Apeksha friendly and with others he talks as they are strangers.
Apeksha comes to Sid's house. She asks Gireesh if they get any info about Sid. Harimohan says they didn't get any info about Sid and Mithai. Apeksha says Sid feels Mithai is a problem that's why he didn't reject Singapore's offer. Harimohan asks Singapore? Apeksha says yes, we are moving to Singapore. Everyone gets shocked. Mithai says you agree that Apeksha is your childhood love and you feel I'm problem to your problem but the reality is you're problem to them and questions if he knows what problems his family members are facing and you didn't even address your Dad as father and they feared seeing you and family means you have to be with them and you will know what's family when you started loving them so start it from your childhood love and marry Apeksha. Sid says see and holds her handing reflection action. Both rolls downside.
Harimohan says Sid didn't tell him about it. Gireesh asks when they decided. Apeksha says post Mithai problem as he can't handle the stress. Kirti says he won't share anything with them. Apeksha says she applied for both of them and he didn't refuse so he wants to accompany me and our forms are selected and the procedure gets started. Harimohan says he knows that Sid won't leave them. Apeksha says Sid is disturbed by Mithai's presence there why he wants to leave this house and don't worry about Sid as I will take care of him. Sid stands up and offers his hand. Mithai gets up. Sid says where he is trapped.
Mithai says they are trapped in the jungle. Shubham says first they need to find where are Mithai and Sid. He calls Inspector. He gets to know someone saw Sid chasing Van with Cycle. Kirti says it can be Bhoora's van. Shubham asks the inspector to track Bhoora. Apeksha says Sid won't go behind Mithai. Kirti says he won't back out to save her. Shubham leaves. Pramod follows him. Sid and Mithai hear the vehicle sound and find their way out of the jungle. Pramod tells Shubham that you have to save Mithai when she gets trapped in danger but how Sid knew that she is in a problem as he always runs behind to save her. Shubham looks on.
Episode ends.
Also, See: