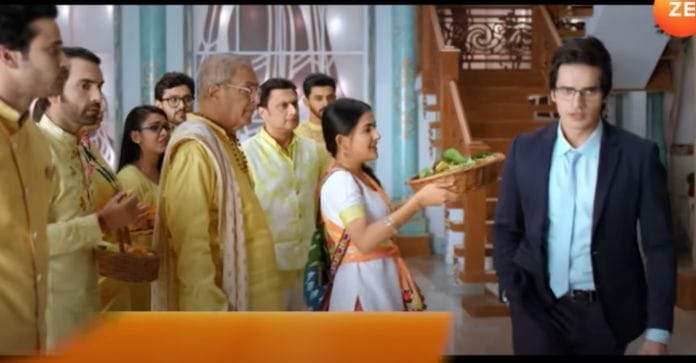 Mithai 26th May 2022 Written Update on TellyExpress.com
The episode starts with Pramod asking Shubham how does Sid know when Mithai is in danger and goes after her. Shubham asks what are you saying and points out both of their phones are in the house. It is later shown everyone is worried for Sid and Mithai. Sid and Mithai enter the Chobe house. Apeksha sees Sid and hugs him.
After some time she leaves Sid. Gireesh asks what happened. Mithai explains everything that happened and says behind everything there is Bhoora. Abha and Shubham comment on Bhoora. Mithai gets worried that Sid will tell about cancer to Dadu and Mithai cones in between them and says they should first say thank you to Gopal Ji. Apeksha sees Sid and Mithai and thinks there is something. Sid goes to freshen up.
Bhoora thinks about Mithai and Paras comments about what happened and Bhoora beats him up. Shubham comes and pins Bhoora against the pillar holding his neck and warns him. Bhoora also warns when the police are taking him that he is the son of MLA and says Mithai will only be his. Kavita comes with Rohan and asks how are Sid and Mithai. Mithai comes and says Sid saved her and asks him where he is. Sid is shown to be walking downstairs. Rohan gives a book to Keerti. Keerti holds the book and touches Rohan's hand and she leaves the book and it falls down. Mithai picks up the book and gives it to Keerti.
Sid knocks on Harimohan's room door. Harimohan opens the door and he sees no one. Sid and Mithai hide from Dadu. Mithai takes Sid to his room and asks him not to talk about cancer infront of Dadu. Sid says he will talk about it. Mithai says she will do anything for Dadu. Sid asks what did she do for Dadu. Mithai says she agreed to the marriage just because of Dadu. Mithai asks the same question to Sid and asks what did he do for Dadu.
Shubham comes to the house and thinks of going to Sid's room. Mithai tells him to think about why she is asking the same thing and asks him not to talk about cancer. Mithai leaves Sid's room and runs into Shubham. Shubham asks her what is she doing here. Mithai says she has something important to talk about with Sid and while talking she came to Sid's room.
Shubham says to Sid that he gave Bhoora to the police and he will not get out that easily. Sid asks Shubham if he is really interested in marrying Mithai. Shubham says he doesn't know he is only doing it because Dadu wants it. Sid says to don't do it and gives an example of his father. Shubham says he has no choice besides marriage and every story does not have the same ending.
Episode ends.
Also See: