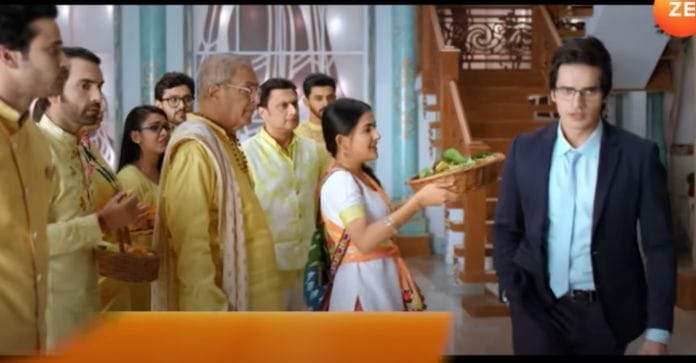 Mithai 27th June 2022 Written Update on TellyExpress.com
The episode starts with Girish refusing to bless Kirti which hurts her. Sid sees her and asks if she is happy with Rohan. Kirti tells him yes. Karishma in tears thinks Kirti snatched her position and happiness. Harimohan welcomes everyone and tells his wife that she needs to dance with him at today's function. Mithai sits beside Shubham. Harimohan asks Sourya to start the music. Sourya plays the music. Mithai moves her feet according to the music.
Shubham tells her it's not good to dance infront of guests. Rajeev makes Shubham dance with him. Kavita, and Kirti dance with their husbands. Sid joins them. Kirti insists on Mithai to dance on her Sangeet. Mithai refuses but Dadu asks her to dance. Mithai dances happily with everyone. Shubham looks in disbelief. Harimohan joins them with his wife. Kirti goes to the kitchen to drink water.
Karishma goes to the kitchen. Kirti sees her. Chandrakantha and Geetika ask the mehendi artist to put mehndi to Mithai. Abha smirks. Kirti hugs Karishma and asks how is she. Karishma says I'm an idiot to trust you and you snatched my would be husband. Kirti asks her to understand the situation. Karishma asks Kirti to tell me what magic you did on Rohan. Kirti says stop talking rubbish. She tries to leave but Karishma holds her and asks her to answer her and tells her how social media people are mocking her. Kirti says you won't understand it now.
Chandrakantha tells Mithai the importance of ritual. She asks Mithai to tell Gopal to keep this relationship for 7 births after seeing the name of her husband in her hand. Mithai agrees. Mehendi artist is about to apply the Mehendi. Mithai stops her to remove her bangles. Kirti comes out. Karishma holds her. Both of them start fighting with each other. Family members try to stop Karishma but she won't. Sid enters between them and separates them. He pushes Karishma, she falls down and pushes the bowl of Mehendi.
Mithai tries to help Karishma. Karishma warns her to not show fake sympathy. Sid asks Karishma why she is behaving in this way after everything got sorted. Harimohan scolds Abhishek. Rohan supports Kirti. The table gets burnt because of acid in the Mehendi. Abha gets worried. She scolds Karishma. Rohan says I told you Kirti that it's not good to come here. Mithai says she came to her home. Sid stops her and asks Abha to take Karishma to her room.
Abha takes her saying noone understands her pain. Harimohan apologises to the Rohan family for the inconvenience. Chandrakantha says Mithai Mehendi ritual can't get stopped because of it. She asks Mithai to sit. Rohan asks Kirti to leave with him. Kirti says she is not guilty and tells him that she will be part of all wedding rituals. Sid sees smoke emitting from the table where Mehendi falls. Sid stops the Mehendi artist from putting it on Mithai's hand.
Some Mehendi falls on his hand and hurts his hand. Mithai makes him dip his hand in the water. Sid tells her he can take care of it. Apeksha applies cream to him. Geetika questions Mehendi artist what she mixed in it. Artist says it's from their house. Girish says this ritual can't be stopped. He asks Geetika to prepare Mehendi again. Mithai thanks Sid for saving her.
Abha scolds Karishma for spoiling her plan. Karishma says she is unable to bear Kirti with Rohan. Abha says she will think of another plan against Mithai. Geetika and Kavita prepare Mehendi and bring it. Chandrakantha scolds Mehendi artist. Artist request them to not complain to her parlor. Kirti applies Mehendi to Mithai. Mithai closes her hand. Sid runs to save Diya infront of Gopal Ji. Kirti writes S in Mithai's hand.
Geetika tells Mithai her husband's name is written on her hand and asks her to pray to Gopal Ji opening her eyes. Mithai prays Gopal ji for her relationship. She turns towards the mandir and sees Sid. Shubham comes to Sid and asks him what happened. Sid says he comes to save Diya as I don't want another inauspicious thing to happen at home. Episode ends.
Also See: