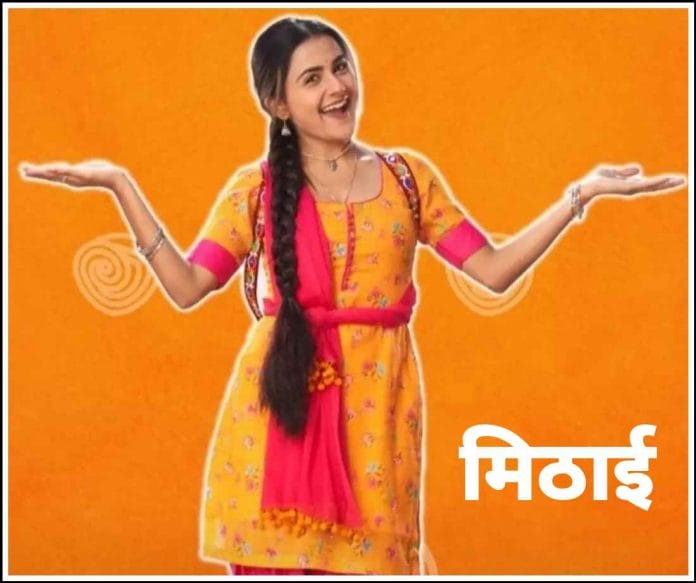 Mithai 27th May 2022 Written Update on TellyExpress.com
The episode starts with Kirti noticing Karishma is not in the room then she attends Karishma's phone and tells Rohan that Karishma is not in the room. Rohan asks what's she doing. Kirti tells him that she is reading poetry and both talk about it. Karishma comes there. Kirti leaves giving her phone. Mithai returns after delivering sweets at the shop. She meets Shubham on the way. Shubham tells Mithai that he will take her shopping if she wants. Mithai tells him she has everything. Shubham says we are marrying for Dadu but still you can share anything with me. He leaves. Mithai thinks about what happened to him. She thinks Sid may leak her version to Shubham.
Sid comes to Dadu with Apeksha. Sid is about to say him about what Mithai said but Dadu stops him and asks if he is planning to shift to Singapore. Sid says it's not permanent and I hate arguments in the family because of money, you should close this shop, there is always some new drama, I can't tolerate this that's why I want to go to Singapore and earn a lot of money. Apeksha says she will support him. Sid says he will leave after Shubham's marriage. Dadu falls on the floor in shock. Sid holds him and feels worried for him.
Mithai stops Shubham and asks him to not tell anyone about what she is going to share with him. Shubham promises her. Mithai says Dadu is suffering from cancer and he doesn't want anyone to know from the family that's why I agreed to this marriage. Shubham says he can do anything for his Dadu and if this Marriage is his wish then this marriage will happen for sure.
Doctor checks Harimohan. Indu gets a heavy cough. She goes out of the room and vomits blood. Mithai hears Rohan and Rajeev talking that Rohan wants to get married to Kirti, not Karishma. Rajeev scolds him to not tell anyone about it as it's not the USA. Apeksha asks Sid to not take the stress. Sid blames himself for Dadu's condition. Apeksha takes him out and goes to prepare coffee.
Sid sees Mithai and asks where is she going. Mithai tells she is going to discuss Dadu about her problem. Sid asks if she wants to discuss about her childhood love who's in jail. Mithai asks him to concentrate on his childhood love who's near him. Sid asks her to not divert the matter and insists her to tell. Apeksha asks is there any problem. Mithai tells Sid is not allowing her to talk with Dadu. Apeksha says Dadu is unwell. Mithai goes to Dadu's room. Doctor tells it's happened because of high BP and he asks family members to keep Harimohan away from stress. Mithai asks why he is taking tension. Chandrakantha says he is worried about Sid leaving for Singapore. Sid asks him to take a rest telling they can discuss it later. Everyone leaves. Mithai assures Harimohan that Gopal will cancel Sid's trip as he understands everyone emotions.
Mithai thinks with whom she has to share this important news. She sees Kirti and follows her. She is about to fall but Sid holds her. Mithai goes to Kirti room and tells her that she heard Rohan's conversation that he likes to marry you not Karishma. Karishma overhears it. She goes to her parent's room. Karishma hugs her mother in tears. Abha and Abhishek ask her to tell what happened. Karishma tells them Rohan doesn't like to marry her as he likes Kirti. Mithai asks Kirti if she also likes him. Kirti in tears tells her that she too started liking him and doesn't know how but we are the same in everything but I never expressed that I like him. Mithai says you guys like each other. Kirti says it will ruin my family reputation so don't share it with anyone and she asks Mithai to promise her. Mithai says I know that one who is in love hurt themselves but they can never hurt, so don't worry Gopal will show you the way. Abha shouts for Mithai.
Episode ends.
Also See: