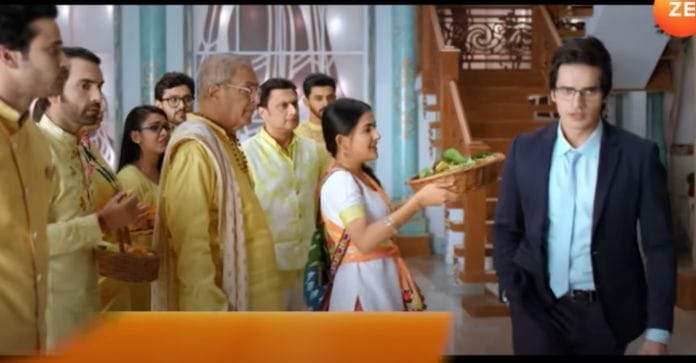 Mithai 28th May 2022 Written Update on TellyExpress.com
The episode starts with Abha calling Mithai and slapping her. Abha blames Mithai for trying to destroy Karishma's marriage. Abha says Mithai said Rohan likes Keerti and not Karishma. Shubham hears and asks how can you blame Mithai without knowing the whole truth. Shubham asks Keerti if Rohan likes her. Keerti says she doesn't know and he did not behave as he likes me. Shubham asks if Keerti likes Rohan. Abha points out that Rohan and Karishma are going to get married. Shubham asks her again. Keerti says that Rohan and Karishma are going to get married. Mithai thinks of what Keerti said that she also likes Rohan to her. Shubham says let's call Rohan and ask him. Gireesh says now outsiders are going to decide what happens in the house.
Sid says there is no need to call Rohan as she lies to get what she wants. Mithai asks him when did she lie. Sid points out that she lied to him that Dadu has cancer. Sid confronts her about it. Mithai says she has not lied about it. Sid then asks if you heard what the doctor said that he only has high BP. How do you know something about his health that we don't? Indu coughs everyone sees her. Sid asks can you imagine what Indu aunty goes through because of you. Mithai says she never thinks of hurting her mother even in her dreams. Pramod and Geethika come and ask about how are Dadu's condition. Sid says Dadu is fine and he has high BP. Abha says what Mithai said and points out it's good that Dadu is sleeping and he will be more hurt if sees it. Geethika asks Mithai about what she said.
Sid says not to talk about her as she is a liar and lied about Dadu's health too. He questions what she wants. Indu coughs badly. Sid asks if she ever thinks about how much she is making Indu worried. Mithai says she doesn't want anyone to feel worried. Sid says everyone is worried because of you. Gireesh says with these 2 entries drama is happening at the office and at home. Mithai says she didn't lie in Rohan's matter. Keerti looks worried. Gireesh notices her. Shubham says it's not good to blame without knowing the truth and it's better to find the truth from Rohan. Abha says it is not the court to call them here. Geetika agrees saying it will create problems for Kavita and Karishma if they call Rohan and his family. Gireesh asks Mithai to stay in her room with her mom until the issue gets resolved. Indu takes Mithai to the room. Gireesh takes Keerti with him.
Indu coughs badly. Mithai makes her sit. Indu asks Mithai promise her that there will be no new problem in this house just because of you. Mithai refuses. Indu says Bau Ji helped us so much and he is making you their daughter in law to fulfill Aarti's wish that's why he went against his family too. Mithai looks on. Abha asks Karishma to call Rohan to clear the matter. Karishma calls Rohan and asks if he is happy with the marriage or not. He asks why she is asking in this way. Karishma says Mithai is saying she heard your conversation with Jiju that you like Keerti and doesn't want to marry me. Geetika notices Dadi is worried. Kavita meets her mom and asks why she called her home immediately. Geetika takes her aside and asks if Rohan ever said he is not interested to marry Karishma.
Rohan lies to Karishma saying it's just a misunderstanding and I didn't even meet her. Abhishek takes the phone and tells him that they want assurance which they got with his answer. Kavita says Rohan told to Rajeev that he is not sure about this marriage as his tastes are different from Karishma's. Geetika says this marriage must happen otherwise relationships between these two families get spoiled. Mithai asks is it true. Indy says yes it's Aarti's wish so promise that you won't become the reason for problems in this house. Mithai says I promise you to close my ears and eyes but I feel drama will happen in the house as Keerti is in love with Rohan. Indu gets shocked.
Episode ends.
Also See: