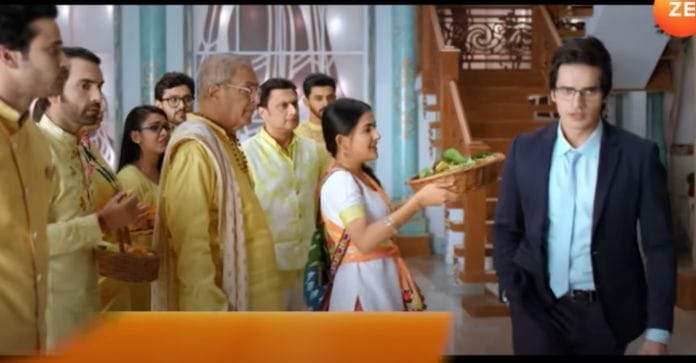 Mithai 2nd June 2022 Written Update on TellyExpress.com
The episode starts with Kirti thinking she can't go to meet Rohan. Rohan waits for Kirti in the restaurant. He calls her but she rejects his call. He again calls her and asks why she didn't come to meet him. Mithai thinks about how to stop Sid from leaving for Singapore. Kirti tells Rohan that she can't come to meet him as there are already many problems at home. Mithai hears her words. Kirti notices her. Mithai tells Kirti that she is doing wrong with Karishma. She suggests her to confess her feelings to everyone if she loves him and this will create problems in the future so think about what you have to do in this situation.
Girish checks decorations. He asks his Dad if they like them. Harimohan says you're doing so it's good. Apeksha enters the home and tells Dadu that house is looking like a marriage house because of the Sangeet arrangements. Dadu asks why she came. Apeksha tells him she came to take Sid's passport to apply for Visa. Dadu thinks she won't leave Sid and he goes to talk with Mithai about it.
At the dining table, Rohan tells his parents that it's better if he gets more time before marriage to know Karishma better. He asks his parents to postpone the marriage. Gunjan refuses to postpone the date telling it's not USA. Rohan leaves without eating his breakfast. Rajeev goes behind Rohan and asks what's he planning to do. Rohan tells him he is going to settle with Karishma. He asks Rajeev to not inform to anyone from the home.
Sid does his exercise. Apeksha admires him. She calls him. He asks her to wait. Apeksha thinks he will be hers once they went to Singapore. Harimohan tells Mithai about the passport. Mithai assures him that she will stop Sid. Indu asks what are they talking about. Mithai manages her telling something. She assures Dadu that she will do his work.
Sid asks Apeksha if she didn't go to workout. Apeksha says no, I came here to collect your passport for Visa. Sid recalls Dadu and tells her that he is not sure about it. Apeksha asks him to not lose the opportunity which is the turning point in his career. She asks him to get the Passport. He goes. Rohan comes to Chobey's house. Kirti hides from him. Rohan tells Abha that he came to give the visa form to Karishma. Abha falls Karishma. Karishma takes a selfie with him and takes him to her room.
Sid sees his mom's photo and tells her that he may never think to go from home if she stayed with him. Sid recalls problems in the house and thinks he can't stay in this house. Karishma gives her passport and Visa to Rohan. Rohan asks won't she feel their marriage is happening early. Karishma says we know each other then why to delay it and I already decided places for our honeymoon. Rohan sees Kirti. He sends Karishma to get him water. Sid gives his passport to Apeksha. She tells him he took the correct decision. Mithai comes there with juice. She asks them to have it. They deny. Mithai makes Apeksha sit. She intentionally pours juice on Apeksha's dress. Apeksha scolds her. Sid takes Apeksha to clean her dress. Mithai leaves stealing Sid's passport. Rohan searches for Kirti. Mithai gives Sid's passport to Dadu. Harimohan denies taking it saying Sid will get angry at him. He asks her to hide in her room. Mithai thinks where to hide it.
Episode ends.
Also See: