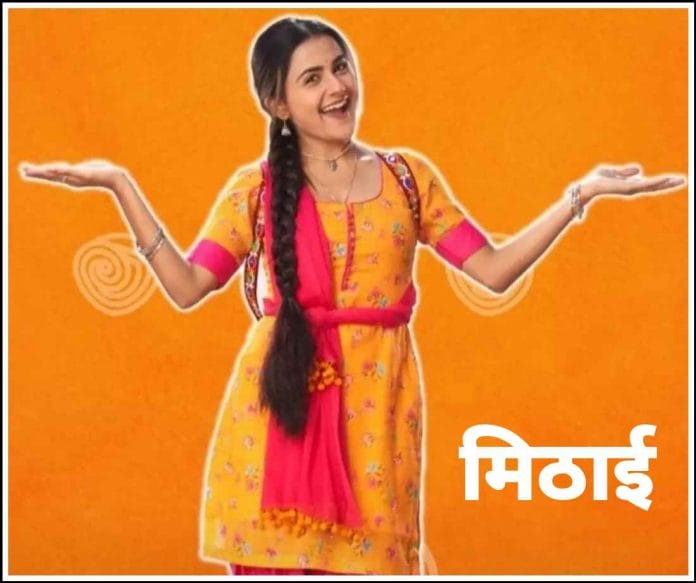 Mithai 30th May 2022 Written Update on TellyExpress.com
The episode starts with Abhishek calling and talking to Rohan and talk about what Karishma asked him. He says the rumors in Madhura spread like wild fire and we come from respectable families so we know you will not do anything that is detrimental to it. Abha also talks about it and says to Rohan after the marriage he can take Karishma to America. Abha talks about it and puts the phone.
Gireesh talks to Keerti and says he wants to know truth. Keerti says there is nothing like that. Gireesh ask her again. Keerti says I never met him alone. I only met with him along with Karishma or in the house. In poetry , books we have similar tastes and I like him. Gireesh tries to slap Keerti hearing it. Sid stops him and Is this how he talks with his daughter. Karishma and Keerti like Rajiv and there were no restrictions before and why is there now. You need to trust your daughter. If she says there is nothing then there is nothing. Gireesh then takes Keerti to the hall and calls everyone. Sid asks him what is he doing. Harimohan comes out. Sid asks him why did he come out as he needs to rest. Harimohan says how can he rest with something going on in the house. We need to talk about it. Gireesh says he has talked with Keerti about it and she said she is not involved in this matter. Abha says if she is not involved how cam her name be mentioned with Rohan. Harimohan says Abha to stay quiet. Abhishek asks how can we be quiet as it involves our daughter's life. We need to sort it out before marriage. Gireesh says he has a solution for it. Gireesh says to Harimohan that you are having health issues and we do not want to stress you because of problems.He also says how important he is to him. Harimohan also says he knows.Gireesh asks his permission that until your health recovers I would like to take the responsibility of family and business. Harimohan agrees to it.
Sid asks what is the solution. Gireesh says until the marriage of Rohan and Karishma. Mithai will stay outside with her mother. Harimohan tries to object but Chandrakantha stops him. Abha says she will welcome Mithai as their daughter in law once Karishma's marriage is done. Abhishek agrees. Sid thinks it may cause problems for Indu aunty's treatment. Harimohan asks Gireesh to rethink his decision. Mithai says they will leave for Jalthipura for some days as there is no tension to go there as Bhoora is in jail. Mithai takes her mom to room and packs her bags. Indu cries badly. Mithai asks why she is crying when they are leaving for their place. Indu says Dadu wants to have you here thinking you will unite this family like Aarti but we are leaving in this way. Mithai prays Gopal Ji to do what is good for Karishma and Keerti. Indu says she is worried thinking what happens to her post her death that's why I want you to get settled. Mithai asks her to not talk about death as you always stay with me. Indu coughs heavily.
Sid asks Dadu why he allowed Indu aunty to leave. Harimohan says there is no option as we can't reveal Indu's condition to Mithai and you're also leaving for Singapore. Sid says yes as I can't take this tension anymore. Harimohan says house situations and tensions won't reduce with your decision and arrange for your trip. Sid this Dadu is more hurt than his expectations.
Indu asks Mithai to call Sid. Sid comes to her room hearing Indu's cough. He calls Doctor and tells him Indu is suffering. He makes her sleep by giving her medicine. Mithai asks him what happened to her Mom. Indu signs him no. Mithai asks what's she signing to him. Sid tries to lie. Mithai says you can't lie so tell me the truth as it's a swear on your grandfather. Sid says sorry aunty I can't hide it anymore. He asks Mithai to not get panic and she tells her that her mother has lung cancer, not Dadu. Mithai gets shocked.
Episode ends.
Also See: