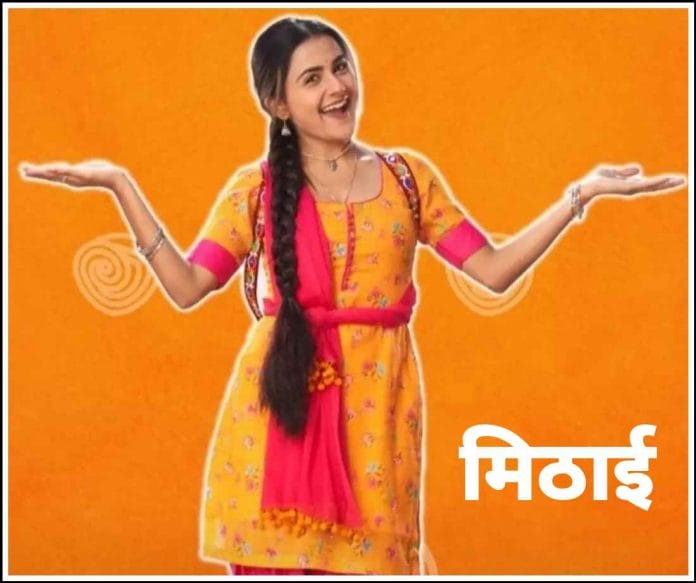 Mithai 31st May 2022 Written Update on TellyExpress.com
The episode starts with Mithai recalling past events how everyone hides Indu's condition from her. She goes aside in tears. Indu feels helpless. Sid thinks she can't let Indu leave their house in this condition. Karishma video calls Rohan to show the design she chose for him. Rohan rejects the call. She calls him again. Rajeev insists him to attend the call. Rohan attends the call. Karishma says Kirti cleared the issue at home telling them there is nothing between you guys and this Mithai created a drama but don't worry she is leaving and won't return until we get arrived. Rohan thinks why Kirti said that way. Karishma says they can enjoy their honeymoon in destinations of America and my videos will get an amazing response so tell me when we go to America post marriage. Rohan asks how can she think about their honeymoon and other things leaving the issue at home. Karishma says it's sorted so let's plan our life in America.
Kirti apologises to her Dad for hiding the truth from him. She tells Girish photo that she started loving Rohan but I never reveal it to anyone as I know it can cause problems at home and I will keep this matter as a secret until I die. Sid holds Mithai's shoulder. He asks her to stay strong telling Indu aunty can get better with treatment. He asks her to have courage. Mithai says I showed my courage from my Dad's death and I won't accept my defeat as I know my Gopal Ji will save my mother.
Doctor comes to check Indu's condition. He checks Indu's condition and tells she is not taking medicines on the report and it's needed for her to take medicines on time. He asks Sid to reach the hospital for treatment on time to make her get a few more tests. Mithai asks how much will be the cost of treatment. Doctor asks her to not worry telling Sid is taking care of it. Sid takes out Doctor. Mithai thinks she will be always thankful to Sid for his help. Mithai asks his Mom why she hid this matter from her? You thought I will be tense but don't worry Gopal Ji is with us and I will get you treated from Jalthipura. She packs their luggage and takes out her Mom with her.
Sid sees Mithai and Indu with luggage. He asks where are they going. Mithai tells him they are going to Jalthipura and tells him she will bring her Mom to Madhuri for her treatment. Sid says she can't take Indu aunty in this condition and tells her he won't allow Indu aunty to go anywhere. Mithai says their stay may cause problems for them and we have self respect too. Sid asks if her self respect is more important than Indu's treatment. Mithai says my Mom treatment is more important than anything and I will bring my mom here for her treatment but we can't stay here. She takes Indu with her.
Sid stops them. Sid asks Mithai to think practically as Jalthipura is far from here and she can't get treatment on time if she faces a serious situation like today. He asks if she can stay happy without her Mom. He thinks ask me then I will tell you how much pain it will be. Sid asks them to stay. Mithai says Bade bau ji. Sid says he will talk with him. Gireesh asks what he wants to talk about with him.
Sid says Mithai and Indu aunty won't leave from here. Gireesh says his decision is final. Sid tells him he is against his decision. Others look on. Gireesh asks why he is against his decision. Sid says Indu is suffering from lung cancer and she getting treated so we can't send her from here in this condition. Hope you understand that it's needed for anyone to support the needed one. Abha says Karishma marriage. Sid says he takes Mithai's responsibility and I will make sure she won't trouble anyone. Dadu smiles.
Episode ends.
Also See: