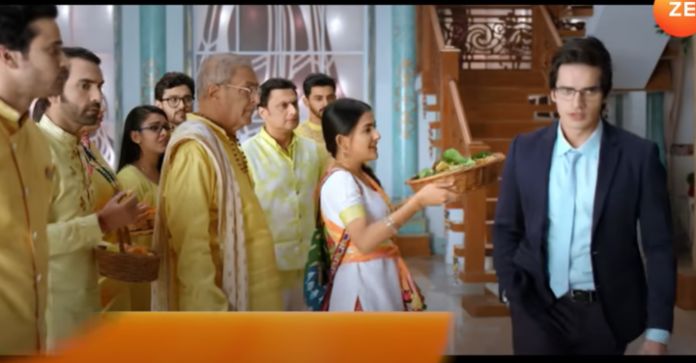 Mithai 3rd August 2022 Written Update on TellyExpress.com
The episode starts with Chandrakantha telling to Harimohan that Apeksha invited Sid and Mithai to her birthday and I made Mithai ready. Sid comes and says she can't stand Mithai. Chandrakantha tries to explain. Harimohan asks him to tell the whole story. Sid says even if I say the whole story you will tell that Mithai is right. Harimohan says he will not be on anyone's side. Sid says what Mithai did at Apeksha. Apeksha calls Sid and tells him everyone is angry after what happened and they left.
Sid asks her to not cry. Apeksha says I feel like going on a long drive at full speed. Sid says not to do anything like that he will come. Sid leaves for Apeksha's house. Girish sees Sid going and calls Apeksha and tells her Sid is coming in a hurry and to be careful. Apeksha reminds Girish of his promise. Sid goes to Apeksha's place where he notices Apeksha is crying. He apologizes to her. She tells him it was not his mistake and hugs him in tears.
Hari Mohan asks Mithai why Sid is so angry. Mithai says they invited us to humiliate me but Sid is not understanding and he feels I spoiled Apeksha's birthday party. He challenged me to achieve something and I'm not scared. Hari Mohan says he is angry and you need to make him cool as your Dadi understands me. Mithai says sorry and hopes Sid doesn't do any mistakes in his anger.
Apeksha asks why he is blaming himself. Sid says he is feeling suffocated in the fake marriage. Apeksha says sorry Sid, I'm crying for a birthday party when you're in big problem. Sid tells Apeksha everything. Hari Mohan says he will talk when Sid returns home from Apeksha's house. Mithai recalls the camera at Apekaha's place. She says let's leave Dadu otherwise everything will be over. Apeksha thinks glad he said everything. She assures him that everything will be fine. They go to open the door hearing a calling bell sound. Sid sees Mithai and Dadu. Mithai calls him home. Sid denies it and talks angrily. Hari Mohan asks him to behave well and takes him with them. Apeksha thinks dhamaka is waiting for them at their place.
Abha asks from where they are returning in the late night, hope you didn't do something which we have to take care of it. Sid asks how she does it and exposes her wrong doings without listening to Mithai. He tells he won't give them anything. Girish stops Sid and tells him he has shock of saying the truth and opens the laptop to show the video of what they talked about in the birthday. Sid asks if he recorded this video. Girish says he recorded this video with the help of a friend. Girish threatens if this video comes in front of court you know the consequences.
Girish says you have to give 3 promises to me and one is to name this business and property in my name and the second one you have to oust Mithai and her mother from this house and the third one you have to stay in this house as my son and you have to call me Papa, not Dad. Sid says if you're my father you wouldn't have spied on me. Girish says let's meet in the court along with the person who supported you and Mithai if you fail to fulfill my demands. Hari Mohan asks Girish to listen to him. Girish denies. He says this time my son has to listen to me. He leaves.
Mithai asks Dadu how to rectify Sid's mistake. Dadu says some mistakes can't be rectified and we have to bear the consequences so I will take the blame in court. Mithai says she will settle everything. Hari Mohan says you already did so much for us and it swears on me that doesn't take the burden on you.
Indu looks on. Girish thanks Apeksha. She asks if Sid doubted her. Girish says no. Apeksha says whatever she did it is to help him and his can Sid handle this sweet business. Girish says he knows how can my son marry that street urchin. Girish says she is perfect for Sid and he gives his word that he will marry Sid to her. Apeksha asks can it happen. Girish says he has no other choice. If he can marry Mithai why can't he marry you he will do anything to save his Dadu.
Abha and Pramod talk. Abha says if he gives everything to Girish then what can they get. She feels like there is no ground under her. Abha says she is worried what will happen tomorrow. Mithai tries to say something to Indu but Indu says she can't stand it anymore. Harimohan is worried what is going to happen tomorrow.
Episode ends.
Also See: