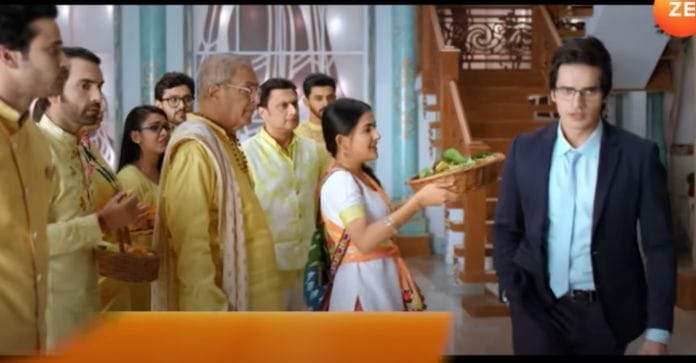 Mithai 3rd June 2022 Written Update on TellyExpress.com
The episode starts with Mithai hiding Sid's passport under the Gopal Ji idol. She prays Gopal is to hide it with him for Dadu. Rohan asks Kirti to stop holding her hand. Kirti asks what are you doing? It's my house. Rohan says you heard karishma's words and for her, this marriage is just an event to share on social media and if this marriage happens then three lives get spoiled. Kirti says their marriage is fixed. Rohan says they can stop the marriage if they express their feelings to family members. Kirti says she will make Karishma understand. She leaves telling she can't give more pain to her family. Rohan thinks Karishma won't understand and your feelings are visible to be but you're hiding them for family.
Mithai apologises to Apeksha. She asks if she wants anything. Apeksha asks her to leave telling her she doesn't need anything. Apeksha notices Sid's passport is missing. Karishma brings water to the room. She notices Rohan left. She shares with Kirti how she is planning for never ending honeymoon. Kirti asks Karishma to understand Rohan first. Karishma says she will think about his likes post marriage and now this is a golden opportunity to increase my likes through this marriage and if you want it help me with shopping. Kirti thinks Rohan is correct, Karishma is not ready to listen to anything.
Apeksha asks Mithai for a passport. Mithai tells she doesn't know what's a passport. Sid says it's used to travel from one country to other. Mithai asks why to leaving for another country. Apeksha asks her to not act smart. Mithai asks if she can use that passport. Apeksha says no but you may hide it to cancel his trip. Mithai says his family doesn't want him to leave so stop doubting me without proof as I promised that I won't cause any problems in this house. Sid looks on. Kirti thinks about what to tell Rohan as Karishma didn't even listen to me. Rohan waits for Kirti.
Abha comes to him. Kirti hides seeing Abha. Abha takes him to eat Paratha. Kirti leaves to her room. Rohan asks Sid what are they searching for. Sid says his passport is missing. Rohan asks if they want help. Abha says he can do his work and takes him with her. Sid says his things won't get misplaced. Shubham asks Sid about his passport. Apeksha tells him they doubt Mithai. He tells them he will ask Mithai and search for your passport. Rohan calls Kirti and asks her to meet him once in the cafe. Kirti denies. Rohan refuses to leave the cafe until she comes. Kirti thinks she wants to share everything with Sid but he doesn't understand me and he just thinks about his trip to Singapore.
Dadu asks Mithai if she hid passport safely. Mithai agrees. She tells Apeksha is worried more than Sid. She doubted me but I acted like an innocent. He asks where she hid it. Mithai says it's better if you dint about it as you can't lie to Sid. Dadu agrees. Mithai tells him she can do anything for his happiness. Dadu says Sid can't leave for Singapore. Shubham comes there. Both get worried.
Abha asks Karishma to concentrate on Rohan leaving her shopping and phone. Karishma says she is counting her likes. Abha says she will throw her phone in the well. She asks her to impress Rohan. Karishma tells her she will purchase clothes for Rohan to impress him. Abha thinks how to change Karishma. Shubham tells that Sid won't leave if he gets to know they hid his passport and family members will get another chance to mock Mithai. He tells Mithai that he can't feel good if anyone points her. He says Sid is worried and asks them to give him Sid's passport. Harimohan says he doesn't know. Shubham asks Mithai to give him but she turns. Shubham threatens to reveal the matter to Sid. Mithai gets shocked.
Episode ends.
Also See: