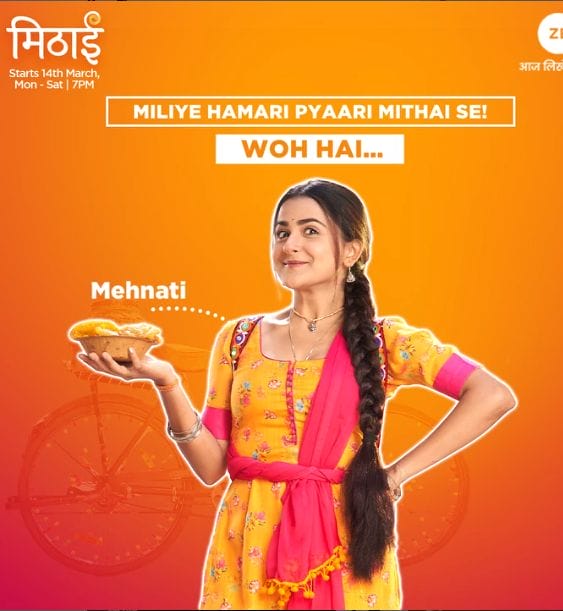 Mithai 7th July 2022 Written Update on TellyExpress.com
The episode starts with Sid saying to Agarwal that he came to discuss with them about the business. Agarwal asks what business he came to talk about? He asks about the family partition. Sid says there is no partition and I'm a single heir of all property so let's talk about the business.
They agree. Sid says he wants to sell his shops to them so they can achieve their dreams of becoming number one in the market. Agarwal asks if he is kidding. Sid says your son Aditya knows what kind of person I'm and I am the legal owner of Hari Mohan sweets and I want to sell my all shops if you are interested you can take this deal otherwise I will talk with number 3.
Agarwal asks what's the price of their 10 shops. Sid says 21 crores for their shops and brand. Agarwal and his son say they can give him 15 cr. Sid says it's not some Diwali sale and he is about to leave. Agarwal stops him. Aditya agrees to the deal. Sid leaves. Agarwal asks his son to know whether it's a deal or a trap. Aditya says he will find it out but tomorrow we will become number one in the city.
Pandit purchases Jalebi from Mithai. He asks her to deliver 2kg jalebi to nandalal Ji too. Pramod asks Abha about Sid. Abha says he is not at home. Pramod gets a call from Aditya, he gets shocked. Customers praise the taste of Mithai's aloo Jalebi. Poorva gives money to Mithai and tells her all Jalebi's are sold out. Mithai asks her to come in the next day too.
Pramod calls everyone in the hall and says Sid is selling all the shops to Agrawal's. Harimohan says it won't happen. Pramod says it's fact and he went to sell all shops. Family members discuss Sid is wrong. Girish says he will stop Sid. Abha says Sid is not Shubham to listen to you. Shubham says he is just an orphan.
Sid returns home. Girish and other family ask how can he steal their hard work. Sid says it does not belong to them and he is the owner to decide. Abhishek asks wint he feels needed to take their opinion. Harimohan asks what's he listening to. Sid asks him to not take the stress. He asks whose address they take when they are talking about partition. Pramod says that day he is not at home. Mithai returns home.
Sid says glad you come, you also want to have an old shop right. Harimohan asks if he is really selling shops to Agarwal. Sid says you started this business with Zero so trust me. Girish says to Sid you are selling everything to our enemy. Sid says the main problem in this house is business, so I'm solving this problem by selling business to Mr. Agrawal and I will give money to Dadu, and power of attorney will be in my name and you guys can't get anything without my permission.
Abha asks how can he do it. Sid asks them to start their business with Zero. Family members ask how can he do it at this age. Sid says if you guys can't do it then sit at home and eat and I will perform Karishma's marriage grandly and settle Sourya too. Chandrakanta says Sid is separating the family more. Mithai signs Harimohan to not worry.
Indu says to Mithai that Sid won't listen to her when he can't listen to his grandfather. Mithai says she won't let anyone hurt Dadu.
Harimohan shows photos to Sid of how he started a business and tells him that he is doing wrong by selling his shops which are his respect. Sid says I can understand your feelings but I'm doing it for our family and to keep you guys away from court. Sid leaves.
Mithai comes to Dadu and tells him that she heard everything and Sid is not understanding what's your pain but don't worry I will make him understand. Harimohan says don't know what happens. Mithai makes him smile by seeing Harimohan's old photos.
The next day Mithai goes to Agarwal's. Aditya asks what happens to her hand. Mithai says she falls down. Agarwal asks why she came as she rejected their offer. Mithai says she understood her mistake and came to warn them about the property. Agarwal asks what is it. Mithai asks him to talk about transaction infront of family members. She thinks her first step is done and prays Gopal Ji to set everything.
Episode ends.
Also See: