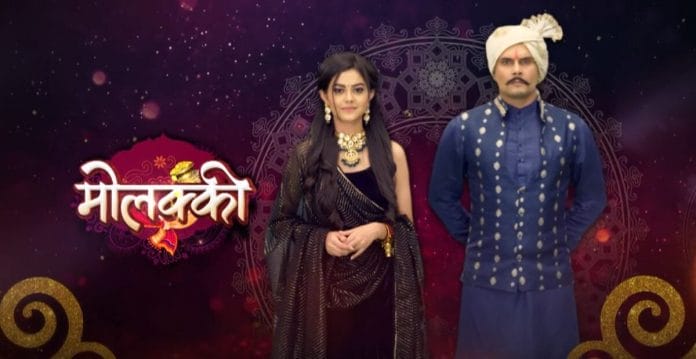 Molkki 2nd February 2022 Written Update on TellyExpress.com
Episode begins with Virendra gives two agra tickets to Purvi. She asks him that what's the use of these tickets when they are not going anywhere. He tells her that she only wanted to visit agra then why she changed her mind suddenly. She tells him that she wanted to visit agra with his earnings. He tells her that he earned this money. She asks him that how can he earn 1000 rupees for single day in that mechanic shop. He asks her to think about trip and leave that how he earned money. She tears the tickets. He scolds her and asks her why she changed. She tells him that she used to live in the palace but now situation also changed. She says that she is tired of living as poor and she can't live like this and leaves from there. He thinks that she never cared about money then what happened to her.
In the temple, Purvi tells herself that she is doing all this so Virendra hates her and throw her out of the house then only she can enter the palace to get revenge from Gajraj. Virendra's colleague informs her that how Virendra hurted his feet to earn money. She gets shocked hearing him and reaches house. She cries seeing Virendra's feet and applies haldi on it when he was sleeping. She says that she can't see him in pain and she is doing all this for him only and leaves from there. He opens his eyes and says that he knows that she loves him so much and he has to find out that why she is acting.
Next day, Manas asks Purvi that how long they has to play this game. She tells him to question Virendra because they are suffering because of him only. Anjali thinks that what happened to her. Purvi says that she is unlucky that's why she is facing all this. Anjali tells her that Virendra working hard. Purvi tells her that she is tired of all this and leaves the house. Virendra thinks that he can understand her pain.
Doctor asks Purvi to spend time with Gajraj and don't let him feel lonely. Driver brings jeep to pick Gajraj up. Purvi recalls that how Virendra didn't let anyone drive his jeep. On the other hand, Virendra wonders that why Purvi behaving like that. He gets angry seeing Gajraj with Purvi. Gajraj asks Purvi to save him from Virendra. Purvi tells Virendra to leave from there. Virendra yells at Gajraj. She tells him that Gajraj is her friend and she is even working for him. She stops him from attacking Gajraj.
Later, Purvi and Gajraj reaches the palace. Gajraj asks her to eat with him. She thinks that she is waiting for the day to snatch everything from him. She steals pastries and Gajraj catches her red-handed. He tells her that he bought them for Manas and Juhi only so she can take them. Purvi learns that someone want to kill Gajraj.
Episode ends.
Click to read