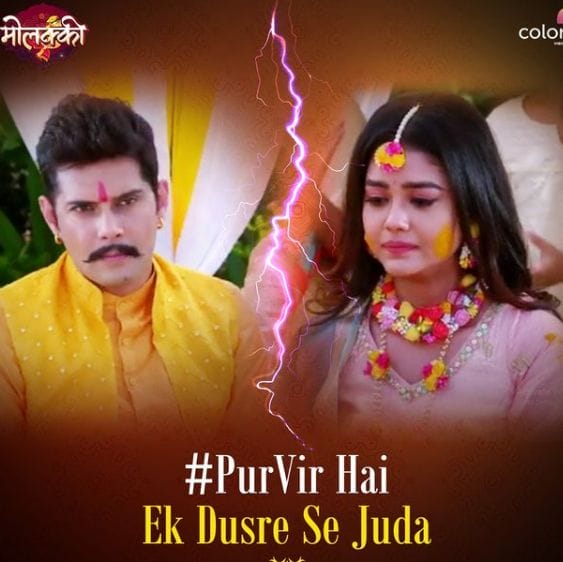 Molkki 3rd February 2022 Written Update on TellyExpress.com
Episode begins with Purvi learns that someone want to kill Gajraj. One man tries to kill Gajraj but Purvi saves him and she gets injured. Gajraj asks that man that who send him. Purvi informs him that there was poison in stick and she loses her consciousness. That man runs from there. Gajraj asks his men to call Doctor. He takes Purvi to a room and lays her down on the bed.
After some time, Doctor visits the palace. Gajraj threatens him to save Purvi. Doctor treats Purvi. On the other hand, Virendra tells Anjali that he is going out to find Purvi. She tells him that he don't know that where is Purvi now. He tells her that he knows Purvi's location. Juhi says that she will accompany him. He tells her to stay with Anjali and leaves the house.
Gajraj asks Doctor that if Purvi is fine. Doctor informs him that Purvi is out of danger. But Purvi stops breathing. Doctor tries to save her but he could not. Gajraj holds Doctor at gunpoint and warns him to save Purvi. Meanwhile, Juhi and Manas prays to God for Purvi. Doctor tries again and saves Purvi. Gajraj asks him to stay in the palace until Purvi regains her consciousness. But Doctor runs from there. Nurse tells Gajraj that she will take care of him and Purvi. He ignores her and goes to Purvi.
Virendra is about to meet with an accident but Doctor saves him. Doctor informs him about Purvi's heart attack which shocks the latter. He tells him that Gajraj is mentally ill and asks him to not let Purvi stay with Gajraj and leaves from there.
Purvi regains her consciousness. Gajraj tells Nurse that she can leave now and she leaves from there. He asks Purvi that did she thought what will happen to him if anything happened to her. He says that she should not have risked her life to save him. She tells him that she can die for her friend. He tells her that he won't let her leave until she recovers completely. He says that she must be hungry now. He orders servants to bring something to eat. Servant gives apple to Gajraj. Gajraj feeds Purvi. She notices tattoo on his hand and thinks that she have seen this already. They hears noise from outside so Gajraj goes out.
Security guards stops Virendra from entering the palace saying that without Gajraj's permission the latter can't go inside. Gajraj comes there and asks Security guards to not treat Virendra like this because he is ex Mukhiya of this village. Virendra asks him that where is Purvi now. Gajraj tells him that she is taking rest. He asks him to divorce Purvi and gives divorce papers to him. Virendra says that no one can stop him from meeting Purvi. He beats him up. But Security guard beats Virendra from behind and Virendra falls down. Purvi finds Renu's nuptial chain and she wonders that why Gajraj has it.
Episode ends.
Click to read