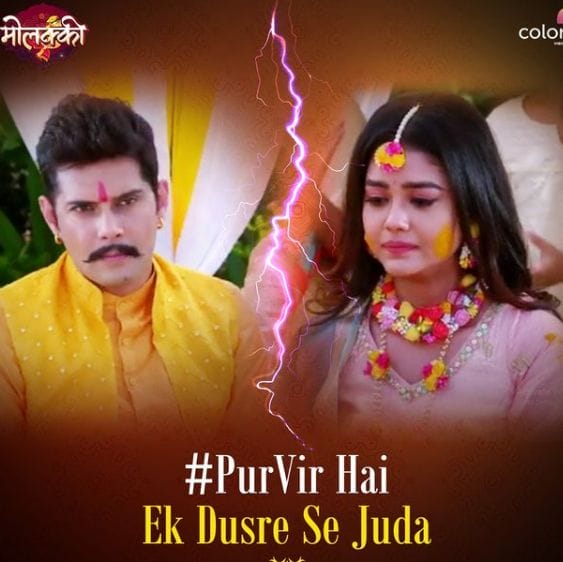 Molkki 8th February 2022 Written Update on TellyExpress.com
Episode begins with Yogi tells Virendra that like Anjali said Purvi must have some reason that's why she behaved like that with the latter. Anjali says that she is not understanding that what Purvi want to do but they should support her. Virendra asks her that how can he support Purvi when she didn't support him in his difficult situation. He asks them to not let Kids know about his and Purvi's divorce. Kids overhears their conversation. Manas asks Juhi that what is divorce. She tells him that she don't know and they has to go to palace to bring back Purvi.
On the other hand, Purvi calls Nurse and tells her that she also want to punish Gajraj so to discuss about him she want to meet her. Nurse agrees to meet her and disconnects the call. Security guard stops Kids from entering the palace. Juhi asks him to call Purvi or let them enter the palace. He says that they can't enter the palace. Manas asks Juhi that what are they going to do now. Kids distracts Security guard and enters the palace. They goes to Purvi and tells her that they missed her so much. They gets excited seeing all the food and sits to eat it.
Gajraj tells Kids that he is happy that they came. Juhi tells him that if Purvi can live with him then they also want to live with him. Purvi stops Kids from eating and scolds them saying that they can't live in this palace. She says that Virendra cut off all ties with her so she don't have any connection with them. She tells them that she don't love them anymore and throws them out of the palace.
Gajraj tells her that she should not have behaved like that with Kids. She tells him that she want to forget Virendra. She asks him to give 1 crore rupees to her so she can pay her Molkki amount to Virendra. He tells her that Virendra won't get money from him. She asks him to give the jeep and money to Virendra. He asks her to not leave him and he can do anything for her.
He gets afraid seeing fire. Purvi thinks that he is really afraid of fire. He tells her that he gets panic attack seeing fire. She tells him that she has to go out and asks him to take care of himself. He plays with lighter and smriks. After some time, Purvi hopes that Nurse will give statement against Gajraj. She finds Nurse's dead body. She runs from there and collides with Virendra. She informs him about Nurse's death.
Later, Police inspector tells Virendra that they will start the investigation soon. Virendra asks Purvi to not blame herself for Nurse's death. And Gajraj must be behind Nurse's death and she must have proof against Gajraj. She tells him that she should not have called Nurse here to meet her. He tells her that why she didn't inform him about her plan. She reveals that Gajraj is Satyam.
Episode ends.
Click to read