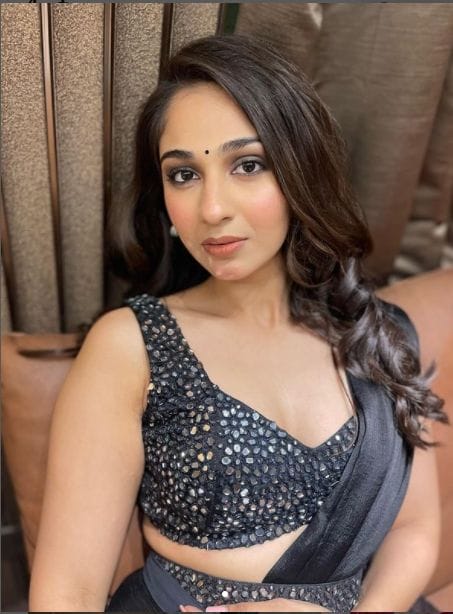 Interview by: Anil Merani| Vidhi Pandya is all set for her next Sony TV fiction show, Mose Chhal Kiye Jaaye,
" I have worked with buddy Vijayendra Kumeria before in Udaan, as well. So there is a great comfort level that makes shooting a breeze. "
Talking about her character, she says, " Budding Indore based tv writer Saumya wishes to move to Mumbai to give wings to her career.
"She comes across as a manipulative sweet talker Arman Oberoi(Vijayendra ), who gives her false hope of not forcing her to become a housewife post wedlock. What happens next is what our show will dwell on," adds Vidhi, who has done other tv shows like Balika Vadhu and Ek Duje Ke Vaaste 2 etc
This 25-year gal goes on, "Our Shashi Sumeet presentation will be an eye-opener to all those who think that it's a women destiny to take care of the kitchen, period. We wish to work towards a society where working women are the norm."
"Agreed wives will have to balance work and home, but here, the man also needs to chip in for a marriage is a union of two individuals.
Not done this feminist add for good measure" We also wish to call out all those who fib woke attitudes before the wedding and later reveal their true colours. If a husband can follow his dreams, why is the wife expected to abandon her ambitions? Some girls might be content to stay at home, which too should be acceptable. "
Vidhi is confident that "if the audience gives Mose Chhal a chance, it should work, for we have a great story coupled with the entire team's hard work. "
Point out that Sony shows dont rock the TRP charts, and she says, "I can't comment on that, except that a lot depends on the story. I am sure they have their internal calculations. No wonder they keep launching back to back new projects.
In closing, Vidhi is very happy that dear friend Tejasswi Prakash won Bigg Boss 15 and grabbed Naagin 6 lead role. She and Donal Bisht had been eliminated early on in this former big-ticket Colours reality show,
Was it rivalry that prevented other BB contestants from applauding Teja win? "I did not see others' reactions as I was busy looking only at TejRan. Karan was thrilled at his girl emerging tops. As for rivalry, it exists everywhere, ended she