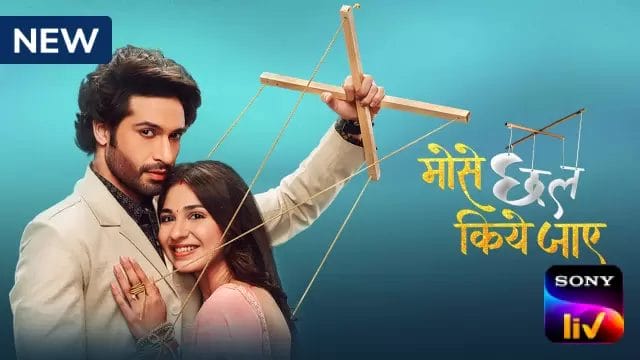 Mose Chhal Kiye Jaaye Spoilers, Upcoming Story, Latest Gossip , Future Story, Latest News and Upcoming Twist on tellyexpress.com
This week Mose Chhal Kiye Jaaye starts with the family members urges to the hospital after learning Saumya is admitted. Sushma questions Armaan what is the reason behind Saumya's condition. Harsh scolds her. The doctor tells that Saumya's condition is critical. Prisha interrupts Harsh and Armaan's conversation which leads Harsh to warn Armaan to not to interfere in their family affairs. Doctor explains Armaan about Saumya's condition and tells him the difficulties to save both mother and children and asks his opinion to choose. Armaan asks the doctor to save his babies. Malini gets shocked hearing this but Harsh lies to her that he and Saumya had an argument over this and Saumya asked Armaan to chose the children that's why Armaan asked the same to the doctor but Malini refuses to believe it and pleads the doctor to save both the mother and children.
Later Saumya gives birth to two boy's but her health condition worsen. Sushma Malini and Shilpi prays for Saumya's well being. Saumya recalls everything that happened and motivates herself to not to give up on herself for the sake of her babies then the doctor ans nurses feels relived seeing Saumya is out of danger. Harsh congratulates both Sushma and Malini for becoming a grandmother's. Armaan tells them that Saumya is out of danger too which makes both Sushma and Malini happy. Prisha mocks at Saumya and tells that Armaan loves her only. Saumya gives a befitting reply to her and makes her leave the room. The family members goes to see the babies first and they all goes to meet Saumya. Harsh asks Armaan to make Saumya to stay with them using his new born babies.
Family members congratulates Saumya for becoming a mother. Saumya tells she wants to meet her babies. Armaan comes there bringing flowers and balloons and acts nicely but the latter reveals his affair with Prisha to everyone which shocks Sushma Malini and Shilpi. Armaan blames Saumya for not adjusting with himself also accepting this life style. He further insults Saumya and Malini. Saumya decides to not to stay with Armaan anymore. Sushma pleads both Armaan and Saumya to think about their babies. Harsh makes Armaan to leave the hospital room. Prisha's mother makes fun of Saumya for leaving the luxurious life which she has instead of adjusting to it and advices Prisha to uses the opportunity to enter Armaan's life.
Saumya expresses her joy after meeting her son's. She makes a promise to them also asks them to be her supporters in this fight. Prisha suggests Armaan to send her to Canada because she don't want him to get separated from his babies but the latter refuses and makes a promise to be with her. Sushma pleads Saumya to return to their house for the sake of the babies but Saumya refuses. Sushma and Harsh advices Armaan to leave Prisha but Armaan tells them to advice Saumya to adjust with him the way Sushma did with Harsh shocking both of them. Sushma blames herself for failing to give a good upbringing to Armaan.
The next day after completing the hospital formalities Saumya gets shocked learning that Armaan took the babies with him. She also makes the hospital bill with the help of Shilpi's money. Sushma pleads Armaan to not to separate kids from their mother but the latter tells he is not doing anything such. Saumya tells Armaan's friend about Armaan's behavior and says she will bring back her babies with her at any cost. Harsh supports Armaan's decision to making the babies stay with them. Saumya comes to the Oberoi mansion to take her babies with her but Sushma thinks she returned home but Saumya clears it and goes to the room where her babies are. She feeds her babies and calms them down.
Armaan comes and says he knows Saumya will return home for the sake of their babies. Saumya tells she is here to take the babies with her which lead Armaan to put forth an condition to either choose to be with him to be with their babies or else she have to spend the rest of her life only able to see the babies in the photo. Armaan's friend comes and scolds Armaan but the latter insults his friend and make him leave his house. He also snatches the babies from Saumya. He asks Sushma to advice Saumya. Sushma asks Saumya to fight for her rights. Saumya challenges Armaan. Saumya leaves the house with Malini and Shilpi after challenging Armaan. Malini takes Saumya to Prisha's house. She scolds Prisha and slaps her for ruining her sister's life but both Prisha and her mother accuses Saumya for snatching Armaan from Prisha also justifies Prisha's action.
Saumya leaves the place with her mother and sister. She cries missing her babies. Armaan gets angry with the caretakers for failing to calm down his kids. Sushma video calls Saumya and the latter gets emotional seeing her babies. She sings lullaby and the babies fall asleep. The next day the news channel accuses Saumya for leaving her kids. Shilpi gets upset and pleads Saumya to take help from police because the court process will take time. Saumya goes to the police station but the officer asks her to bring court order copy then only she can able to help her. Saumya thanks the officer for making her realise this battle of her's isn't that easy to win for this she has to go through so much.
In the next week viewers will get to see that Armaan will fail to calm down his crying babies. Saumya will come to Oberoi mansion as a delivery partner. Prisha will grow suspicious so she will ask Armaan to make the delivery person to remove the mask so that they can also able to see the one who helped him to calm down the babies. Saumya will look on shocked.
To know more about what's happening in Your favorite show Mose Chhal Kiye Jaaye keep checking this space.