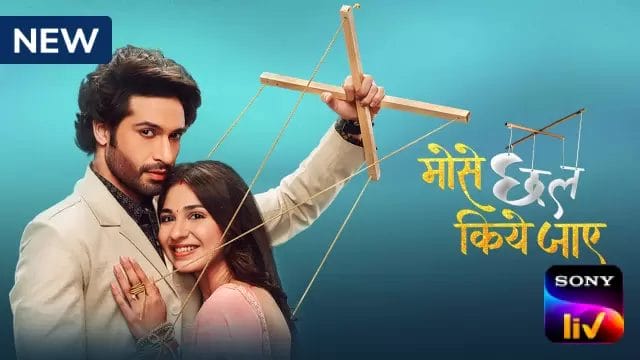 Mose Chhal Kiye Jaaye Spoilers, Upcoming Story, Latest Gossip , Future Story, Latest News and Upcoming Twist on tellyexpress.com
This week we saw Prisha preparing her room as Armaan is about to arrive there. Shalu asks her to do something otherwise Armaan will leave her. Prisha understands her point. Shalu says that she is going out as will come after Armaan leaves. Here, Sushma is downloading a baby shower video. That's when she gets a call from someone. Sushma leaves from there. Armaan comes to Prisha. He gives a gift to Prisha. Prisha tells that she wants him not this necklace. Armaan says that she is his life and no one takes her place. Prisha hugs him. Meanwhile, Saumya watches the video. She notices that Prisha and Armaan are holding each other's hands. She gets shocked.
Armaan comes to her and asks her why she is upset. Saumya stays silent. Armaan asks her to come downstairs as they are watching the godbharai's video. Here, Shalu asks Prisha what is her plan. Prisha tells her that she is waiting for Saumya's delivery and after that, she will tell her everything and Saumya will leave Armaan. After that, she will marry Armaan. Shalu likes her plan and praises her.
Prisha calls Armaan. Armaan saved her number in the name of Goldie. Saumya picks up Armaan's call. Prisha gets nervous hearing Saumya's voice and hangs up the phone. Armaan comes there. He asks Saumya whose call was it. Soumya says that Goldie had a call but he disconnected. Armaan says maybe there will be a network problem. He calls back. Soumya thinks that Armaan is talking to Goldie only then Goldie call Soumya. Saumya gets shocked seeing this and looks at Armaan. She picks up Goldie's call. Goldie apologizes to her for not being able to attend her baby shower. Later she suspects that Armaan is talking to Prisha.
Here Harsh comes home. Sushma asks him to take his medicine. Harsh says that he can not take this medicine empty stomach. Sushma says that she had called the hospital and from there she came to know that he had eaten. Harsh gets shocked. He takes the medicine and leaves from there. Soumya comes near Sushma and tells her that she needs her help. She tells her that she wants to talk to her about a story. She says that if the heroine of her story chooses the truth then she has to leave her family and if she chooses the lie, she will have to lose herself. Sushma says that her heroine should choose the truth. She says that she did wrong by choosing a lie in her life so she doesn't want her heroine to be weak.
Saumya comes to the hospital with Armaan and sees the same girl who helped Prisha. She remembers that this is the girl who came to the restaurant that day to get her purse but Armaan is behaving like he doesn't even know her. The girl leaves from there. Soumya goes after her. She tells her that she knows that she is not the girl who is having an affair with Armaan. The girl tells her that she has done all this for money as her brother is very ill and needs money.
Saying this she leaves from there. Later Saumya goes to Armaan and says that she wants to go to her mother's house today. Armaan says okay. Soumya comes to her house. There Malini gives her a chaat to eat and asks her how is it. She says it is very tasty. Just then she sees Prisha's red dress which the girl was wearing in that viral photo. Here Armaan tells Prisha that they should go on a vacation. Prisha likes his idea. Armaan says that they will leave today.
Sushma sees that Armaan is going somewhere. She asks him where is he going. Armaan tells Saumya that it is good that she has come home. He says that he is going out of town for two. He lies to her that he is going out of work. Soumya asks him where he is going to stay. Armaan tells her his place of stay and leaves from there. Saumya calls Prisha and asks her if they can meet. She refuses and tells her that she is going to her friend's house for two days.
Soumya calls Goldie and tells her that she wants to catch her husband's lie, so he will choose his friend or the truth. Goldie agrees to help her. He asks her what he has to do. Soumya tells him about her plan. Next Armaan comes to Hotel. He asks the manager whether Mrs. Oberoi has come. She says yes. Armaan comes to his room. Soumya is sitting there. Armaan feels that Prisha is sitting in the room. He starts saying that for two days from now he will not talk about Saumya and will be hers only. Saumya gets sad hearing this. Just then Prisha comes there. Armaan gets shocked seeing her.
Prisha asks Saumya what she is doing here. She says that he too had planned a surprise for her. She says that it seems that her surprise has shocked him. She asks Armaan why he is so shocked and adds she did all this for him only. She tells Armaan that she is a boring and spoiled wife so she comes here to see his true love. She remembers that she told Goldie to find out where Armaan is.
Prisha asks Saumya if she had planned all this so that they come late. Soumya says that she has delayed in knowing their truth. She shows Prisha her dress and says that she wore the same dress in that photo that day. She tells her that she got this dress from her wardrobe. Soumya hits the dress on Prisha's face. She questions Armaan why did he marry her when he was in love with Prisha. She says that she only wanted to become a writer and did not want to marry him, then why was he after her. Later Saumya gets faint and Armaan takes her to the hospital.
In the upcoming episode, we will Harsh will tell Armaan that Saumya is in danger and if needs to choose between Saumya and the child, whom he will choose. Armaan will ask him to save his child.
What will happen now? What will Armaan do?