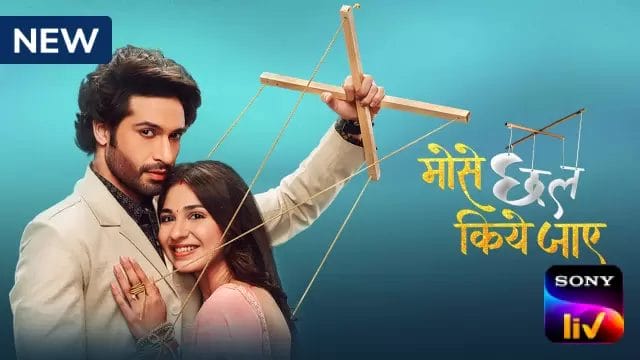 Mose Chhal Kiye Jaaye Spoilers, Upcoming Story, Latest Gossip , Future Story, Latest News and Upcoming Twist on tellyexpress.com

This week Mose Chhal Kiye Jaaye starts with Saumya coming to the office and Vimmy tells her the Director is here to whom she has to narrate the story. Saumya agrees and starts narrating it but Armaan comes there and tells her the meeting is today and the former pretends like that she isn't aware about this so asks to postpone it.
Armaan refuses and tells Saumya he will narrate them their concept. Saumya gives him a pendrive saying she made few changes to impress the creative team. Armaan takes it and goes to meet Mr.Kapadiya and team. He upsets the creative team by the concept.
Saumya comes there and apologises to Mr.Kapadiya and the other person. She impresses them with her narration. Armaan realises it's all the game plan of Saumya.
Goldie asks Saumya about her next move against Armaan and the latter tells him her plan is to make his life miserable the way he made it. Armaan enters the office and requests Goldie to leave as he wants to talk to Saumya. Saumya looks on.
Saumya asks Armaan to say whatever he wants to infront of Goldie. Armaan apologises to Saumya and blames himself for the channel head is upset because of him but assures her not to hide anything from her hereafter.
Saumya refuses to believe Armaan by reminding him about his lies and betrayal but gives in in the end. Goldie warns Saumya but the latter ready to face the consequences if anything goes wrong for the sake of her kids.
Armaan learns through his assistant about Saumya's meeting with the channel head. He decides to use his charm to get successful in his career like before. Prisha warns Saumya to not to come between her and Armaan. Saumya tells she has no interest in neither Armaan nor Prisha.
She then plays hide and seek with the kids but starts worrying about them when she fails to find them. Jashan and Jahan makes fun of her.
Saumya feeds them the pizza cooked by her and hopes to win their love. They both falls asleep on Saumya making her happy. Armaan comes to Saumya's house to pick up the kids. He then reminds her about the days they spent together before their marriage and says he wishes to go back to those days.
Saumya brings the kids from the room. Armaan requests her to take part in a puja which is going to take place the next day. Saumya agrees.
Saumya tells Shilpi that Armaan is going to get a biggest shock of his life soon. The next day Saumya and Goldie tries to convince Mr.Kapadiya to produce the next three shows of Saumya on her own.
Mr.Kapadiya tells them he will think about it. Armaan takes the kids with him to the office. Saumya tells the kids the importance of puja. Prisha comes there and suggests to perform puja with Armaan. Armaan refuses and sends her out.
Saumya then performs a part of the puja with Armaan and guides the kids to does the aarti. The kids calls it boring and leaves the place. Saumya gets upset but Armaan tells her that she is back so they both can teach the kids about the values.
Armaan gets a hint from his assistant about Saumya's decision to produce her upcoming shows alone. He meets Goldie and seeks his help to get back to Saumya. Saumya understands that Armaan is around Goldie so she plays along with Goldie's questions.
She then gets sad when the kids tells her that they still hate her. Prisha pleads Armaan to be happy with what they have but the latter refuses to listen to her and orders her to make an arrangement to welcome her.
Saumya drops the kids at home and decides to leave but Sushma and Armaan requests her to have lunch with them. Saumya refuses but stops when Jahan gets hurt.
Armaan pleads Saumya to return to his life which shocks Prisha. Prisha confronts Armaan and tells him the sacrifices she made during these past five years. Armaan accuses Prisha for separating him and Saumya and asks her to leave the house which will shock everyone.
Prisha slaps Armaan and regretting her decision to be with Armaan. Armaan acts and tells her that he truly changed and learnt how to respect women's. Prisha leaves. Saumya tells Armaan that she will never believe a person like him who only loves and cares for him.
She also tells him that she knows the reason behind his decision to get back to her is to get back his fame and to become financially stable so asks him not to use his charm on her because nothing will happen like how he wanted to be.
Prisha meets Saumya and seeks her forgiveness. Saumya advices her to move on in her life. Later Sushma and Harsh visits Saumya and pleads her to return to Oberoi mansion to take good values to her children who are spoiled by Armaan and Prisha.
Saumya agrees to return for her kids well being. Armaan then gets shocked learning that Saumya has a production house of her own. He feels betrayed so he determines to make Saumya pay for this which worries Sushma and Harsh.
In the next week viewers will get to see that Saumya will ask Armaan about the kids whereabouts after he return from his morning exercise session. Armaan will tell her the kids must be in their room and ask her to search properly.
He will then receive a call from a mysterious man who tell him that the kids are with him. Armaan will refuse to believe but get shocked when he hear Jashan and Jahan's cries. Saumya will get worried witnessing it.
To know more about what's happening in Your favorite show Mose Chhal Kiye Jaaye keep checking this space.